Welcome, fellow jewelry making friends!

This is the very first issue of the Making-Jewelry e'Zine. I just got back from a month-long road trip, and I have lots of inspiration and new ideas to share both here in the newsletter, as well as on the website. So, watch the site as I have lots of new designs to share with you next week.
May Birthstone Jewelry Ideas
May's birthstone is the rare and valuable Emerald.

 

Properties of emeralds (from About.com):  "The emerald is part of the beryl family and is known as the stone of Peace. It is a soft and gentle healer. It gently balances the energies of the spirit." Of course, real emeralds are very expensive (but you can buy emerald beads if you want to use them), so you can substitute any green beads in your jewelry designs.

 

Here are a couple of alternatives for you to try:

Crystals!  You can buy Austrian, Chinese and other types of crystals and they sparkle like fire!  My personal favorite brand is Swarovski.  They have an amazing fire and brilliancy and the quality is always excellent.  Swarovski crystals are available in many shades of green, and they do offer an "emerald" colored crystal.  If you are looking for deals on your crystal beads, I really have to recommend checking eBay.  While I do love browsing my favorite bead stores, sometimes you can spend up to a couple dollars per bead at the bead store, when you can buy crystal beads in quantities on-line and save money.  Click here to browse emerald beads on eBay.

Another good alternative in making May birthstone jewelry is the gemstone Chrysoprase. Never heard of it?  This is a bright, apple green semi-precious gemstone and it is gorgeous.  Because it is somewhat rare, it isn't super cheap, but definitely less expensive than real emerald and a great choice for your special designs.  This natural stone material sparkles, and just makes wonderful spring and summer jewelry! You can learn more about Chrysoprase on Wikipedia.   Buy Chrysoprase beads, here.

Finally, if you're on a budget, pick up any dark green faceted glass bead for your May birthstone jewelry projects.  Remember, you don't have to spend a lot of money to make something nice.
---
Featured Jewelry Store
While I was traveling on my recent road trip, I visited in Southern California.

 

I am always on the lookout for new bead stores.

 

While there, I visited the "Bead Bin", located at 24337 Lucille Ave., Lomita, California, 90717.

 

This store is located in a charming bungalow, with three rooms of fantastic beads, findings and more.

 

The employees are all super friendly and helpful, and I really loved the unique lamp work beads, pendants, and other glass beads that they offered.

 

They also offer several wonderful bead making and jewelry classes, so check them out.

 

Stop in and visit them if you are in the area, or for more information, email the owner at jansbead@msn.com or call them at (310) 856-1936.  If you have a favorite jewelry store you would like to share, Contact Me and I might feature it in an upcoming newsletter.
---
Mother's Day Jewelry Ideas
I just love holidays because it's always a good excuse to make more jewelry!  Also, if you are running your own jewelry business, then you will appreciate the holidays as an opportunity to earn more income.  So, what sort of jewelry gifts are appropriate for Mother's Day?  Well, a personalized Mother's bracelet is always a good choice.  Pick up some alphabet letter beads at your favorite bead store, and spell out the names of each of her children on one or more strands.  Or, for a great design without letter beads, you can simply make a bracelet that uses the birthstone colors of each child.  For a really classic design, use all pearls and place a single birthstone crystal bead to represent each child.  View my free Mother's Bracelet Design idea online.  You don't have to just make Mother's bracelets for mother's day, of course.  These also make great gifts for brand new mommies any time of year—just add a baby booties charm to the clasp and you have created a touching gift and instant heirloom that Mom will really cherish.  Other good Mother's Day jewelry gifts include a pair of crystal earrings (see idea below) or any other jewelry design—after all, who doesn't like getting new jewelry on any day of the year?
Simple Swarovski Crystals with a decorative Bali bead cap are best-selling earrings, and they make a great gift. Best of all, they only take a few minutes to make!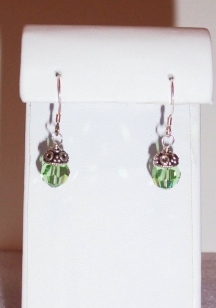 ---
Jewelry Supply Specials
So, where do you buy your beading and jewelry making supplies this month?  Here are a couple of deals I have scouted out for you.

Auntie's Beads is now offering first class shipping for $1.99.  This is one of the cheapest shipping options I have found, so make your list and shop in quantity to save on shipping.  Auntie's is also now offering quantity discounts on Swarovski crystal beads.  Here are some coupon codes you can type in at checkout to save more money:

Type in "GIVEME5" at checkout for an instant 5% savings on orders of $100. 

FREESHIP100 - Free shipping on $100 orde rs
For the following coupons, discounts are not applied to sale items, closeouts, or 3rd-tier discounts (already applied at the product level).
SAVE15 - 15% off list price, $200.00 minimum
SAVE20 - 20% off list price, $400.00 minimum
SAVE25 - 25% of list price, $1,000 minimum
SAVE30 - 30% off list price, $1,500 minimum

ArtBeads posts a special "coupon of the week" on their website every Friday.  Details:  This week's coupon is to type at checkout is code "SC100"  - Save 5% 0ff $100 or more!

In addition to the substantial savings you get from our wholesale bead pricing, you can save an additional 5% off all internet orders $100 or more (not including shipping and tax) with this coupon. Just enter the coupon code "SC100" in the coupon/promotion box in the payment section when ordering from the web site of our bead store.   Please note: This e-coupon is ONLY for orders placed directly on our website. Smaller orders cannot be combined to qualify for the discount.

MySimon.com - Did you know you can get "secret" discount coupons on the Internet...coupons that you might not see listed on the merchant's website?  Well, you can.  Visit MySimon.com and see all the jewelry related coupons right now (just be sure to check expiration dates before ordering).  I just looked and found there are additional coupon discounts for Auntie's Beads, free shipping on eBay, and a couple of others that you might find interesting.
---
New Product Reviews
Crimp Bead Covers
Have you tried the new crimp bead covers yet?  I did, and I have to say I love them.  A crimp bead cover is simply a rounded bead that closes over the top of a crimp bead, hiding it underneath.  When closed, it looks like a seamless round bead and definitely adds a touch of class to your nicer designs.  Not only is the appearance better, but it also prevents a potentially scratchy crimp bead from catching on clothing.  ©©©Highly Recommended!  If your local bead store doesn't have them yet, you can buy some online.
Chandelier Earring Components
Chandelier earrings are long dangly earrings and they are still going strong as a jewelry fashion trend in 2006.  If you have ever made chandelier earrings totally by hand using wire wrapping or chain, you know they can take hours to make.  However, using the new chandelier earring components can save you a ton of time—just attach beads, and you still end up with gorgeous earrings.  There are some brand new ones available at ArtBeads if you want to check them out.  ©©©Highly Recommended!
Got a new product you would like me to review?  Just Contact Me and I will post my product review in an upcoming newsletter.
---
Host your Own Jewelry Parties
Want to make some extra cash?  Well, have you tried selling your jewelry at home parties?  If not, I really recommend it because it is both fun and profitable.  A night of friends, food and drink…and jewelry!  What could be better?  I have added some great information on how to have successful jewelry parties to the "Jewelry Business" section of the website, so be sure to go check it out if this interests you.
---
Your May Free Project Idea
Here is the free project design idea of the month, sent to you because you are an exclusive member of my e'zine newsletter.
"Spring Fiesta" Earrings
---
About This Design
I was inspired by the bright colors of spring and of course, Cinco de Mayo in making these fiesta earrings.  This design was made with genuine blue-green turquoise briolette beads, accented by a "spray" of blue turquoise and pink coral round beads on top.  Note- you can use any briolette and round beads you like in your design.  I used these bright contrasting colors for spring, but use any color combination that is pleasing to you.  These take about 30 minutes to an hour to make.
Supplies
You will need one pair of ear wires, lever backs or posts (earring components), 12 headpins, 2 briolette beads, 12 mixed round beads (I used 6 of each), and several inches of thin gauge sterling silver (half hard) wire.  Don't forget to check and make sure your wire and headpins fit through your bead holes!
Step 1
We'll start with the bottom part of the earring, then attach the round beads on top.  Use a few inches of wire and the turquoise briolette bead.  Follow my website instructions for wire wrapping a briolette bead.  Make a loop at the top, and attach the briolette bead to your earring component before closing the loop.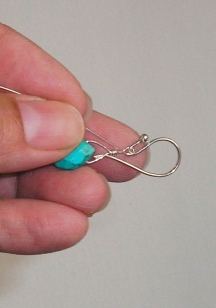 Step 2
Now we'll attach the beads to the top of the briolette.  Slide each of the round beads onto a head pin and make a round loop at the top with your round nose pliers.  You will attach three beads to either side of the loop at the top of the briolette bead.  This will create a "spray" of beads on either side of the top of the briolette.  If you need help learning how to make those pesky wire loops, check my instructions on the website, and remember, practice makes perfect!  Don't be too hard on yourself if you are just learning this technique.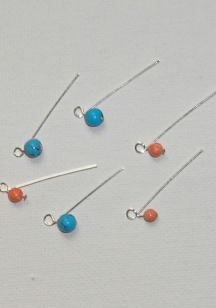 Tah-dah—fun earrings with a "spray" of beads dancing at the top.  Try making these with small pearls or crystals at the top for the same design concept with a totally new look.  Also, feel free to add more beads to your beaded spray if you like, to get the appearance that you want for your pair of earrings.
---
May Designer's Inspiration
This is a lariat necklace design that I made in California while on my road trip.  I was inspired by the chic California designer clothing I saw in the shops, as well as the blues and greens in the ocean and sky.   Lariat necklaces are still very popular, and you can wear them looped or knotted around your neck to change the length.  Generally, lariats are made very long, usually about 36-48 inches in length.  I made this one from semi-precious gemstones including real jade and yellow turquoise teardrop pendant stones, accented with aqua blue chalcedony beads, grossular green garnet, Swarovski crystals, and chartreuse seed beads.  I hope you like this design and that it serves to inspire you to go make something uniquely your own this month.  If you want to make a lariat, try using inexpensive seed beeds for the "strand" and more expensive semi-precious beads or crystals for the ends of the lariat.
---
Thanks for reading the newsletter this month.

 

 

Remember to check www.Making-Jewelry.com often for more "How To's" and project ideas. We've only just begun and there are many exciting things coming on the website.

 

"From inspiration to your creation…" Take care, happy beading, and have a great month!

Know somebody who'd like to read this?

I really hope that you've enjoyed reading this newsletter. If you think your friends might be interested in taking a look, please feel free to forward it to them.

Haven't subscribed yet?

If you're reading this on the recommendation of a friend and would like to receive all the future editions, you can subscribe for free by clicking this link.

Contact us:

If you have any comments, opinions, or content ideas I'd love to hear from you. Just click on the this link to access my contact form.

Best Regards,

-Lorri Ely, Jewelry Designer and Owner of www.Making-Jewelry.com
---
---