Personalized Mothers Bracelet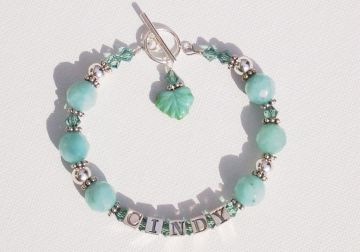 About This Design
Time: Approximately 30 minutes - 1 hour
Level of Difficulty: Beginner - All Levels
Cost: Varies, depending on materials selected. Approximately $20-30 as shown.
This easy personalized mother's bracelet is a favorite project! You can make personalized name mothers bracelet, a grandmother's bracelet, baby bracelet, or a friend bracelet. Use one or more strands of beading wire to create more than one name. Attach a favorite charm to the clasp. The possibilities are endless with your imagination and some good beads.
IDEA: Want to make a custom Baby name or Mommy Bracelet? Simply attach a baby booties charm instead of the leaf accent bead. Here are some great baby booties charms for sale right now: Baby Booties Charms for Sale on eBay
Want to make this bracelet, or a variation for yourself? Let's get started!
Step 1
Gather your supplies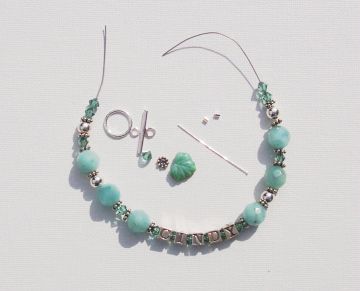 Letter Beads - Here I used square block sterling silver alphabet beads
1 clasp of your choice. For this bracelet I used a sterling silver toggle clasp.
2 crimp beads, and your crimping pliers
A length of flexible beading wire (like Beadalon or Soft Flex) to fit the desired bracelet length, plus a couple extra inches to work with.
Enough beads to complete the desired bracelet length. Because the length will vary depending on how many alphabet blocks are in your name, you may need to add or remove beads from the design. Here I used 6 Amazonite beads (12mm), 4 smooth silver round beads, 15 Bali beads (daisy spacers), and 13 Swarovski crystals (bicone). TIP - Lay out on a bead board or ruler to check your overall design and length using your own beads.
Your choice of charm to attach to the toggle. Here, I used a glass leaf bead which I simply attached to the round toggle part of the clasp. You can attach baby booties or other charms to make this bracelet unique and special.
1 Headpin
Need Supplies? Check my Jewelry Supply pages to find what you need!
Step 2
String beads on wire
Tie a knot on one end of the wire, or place some tape over the end, and string all of your beads onto the wire. Alternate your bead sizes and shapes to make your design more interesting. Check the length and overall design and make adjustments by adding, removing, or re-positioning beads until you are happy with the look of the bracelet. You can do this first on a bead design board if you prefer, but I always like to wrap a bracelet around my wrist just to check the look and fit. If you like my pattern, follow this stringing order:
2 Swarovski crystals
1 Bali spacer
1 smooth round silver bead
1 Bali spacer
1 Amazonite bead
1 Bali spacer
1 Swarovski crystal
1 Bali spacer
1 Amazonite bead
1 Bali spacer
1 smooth round silver bead
1 Bali spacer
1 Amazonite bead
1 Bali spacer
1 Swarovski crystal
First Alphabet Letter Bead
1 Swarovski crystal
Next Alphabet Letter Bead (continue adding letters and crystals)
Repeat pattern in opposite direction after you have finished stringing Alphabet beads.
TIP - You can start a bracelet by attaching the clasp to one end first, However, if you are unclear about your final design or the finished bracelet length, it is best to simply tie a knot or place some tape over the end of the jewelry wire, string your beads, and once you are happy with the design and length, attach the clasps to the ends. This way, if you find you need to subtract or add beads you can just remove the tape or knot and work from either end without having to cut off your clasp and start the whole thing over! This is especially important when working with name bracelets because not all names are the same length.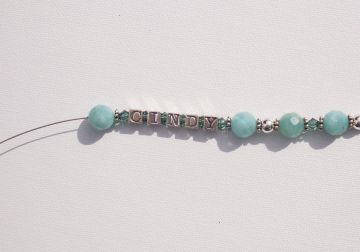 Step 3
Attach the bracelet clasp
Untie your knot or remove the tape. Slide a crimp bead onto the end of wire, and thread the wire through the loop on the clasp, and back through your crimp bead. Crimp the bead flat or use a crimping tool to close the crimp. Follow the How to Use Crimp Beads instructions if you are not familiar with this technique.
TIP - For an even more finished look, cover your crimp beads with the new crimp bead covers!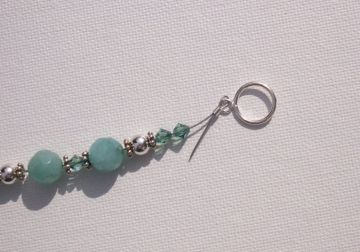 Step 4
Create and attach the charm
Next we will make a little dangle charm from the leaf bead. Slide a leaf bead (or your choice of decorative bead) onto a headpin, then add a Bali spacer bead, then a crystal. Use your round nose pliers to create a loop. Attach the loop to the round part of the toggle clasp so that it slides and hangs freely. That's it!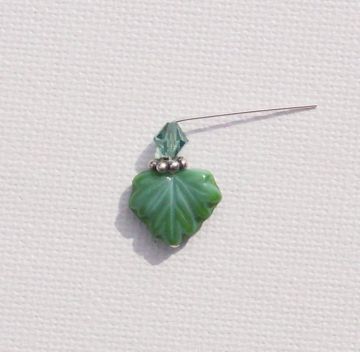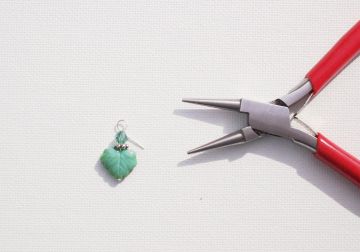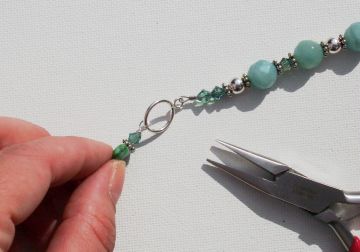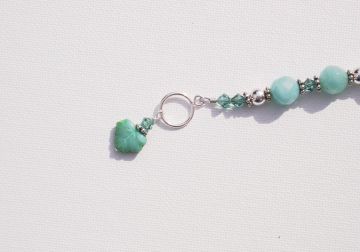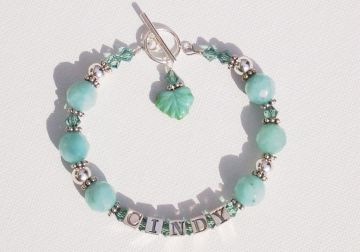 ---
Matching Jewelry Set
Try these matching earrings for a complete set! Wouldn't this make a great gift for mother's day jewelry, or a birthday made with mom's birthstones?