Leaf Bead Earrings Project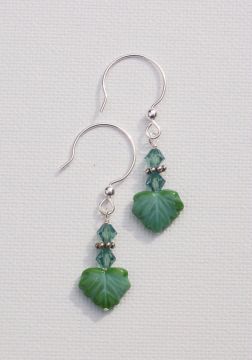 About This Design
Time: Approximately 10-15 minutes
Level of Difficulty: Beginner - All Levels
Cost: Varies, depending on materials selected. Approximately $5-10 as shown.
This leaf bead earrings project is quick and simple--but so pretty! Leaf beads are very popular for all seasons, and they come in all different materials from gemstones to glass. Plus, they make great earring designs with the simple addition of a couple of crystals and some ear wires. I found these green leaf beads at my favorite Portland bead store, Dava Bead and Trade.
Want to make these earrings, or a variation for yourself? Let's get started!
Step 1
Gather your supplies
2 Headpins of a gauge that will fit through your bead holes
4 Swarovski crystal beads (bicone) in your choice of colors
2 Bali spacer beads (daisy spacers)
2 decorative leaf beads (your choice of color/material)
2 earwires, french hooks, leverbacks or posts (your choice)
Need Supplies? Check my Jewelry Supply pages to find what you need!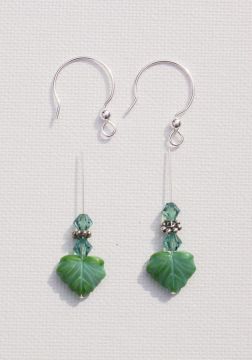 Step 2
String beads on headpins
String a leaf bead onto a headpin, followed by a crystal, a Bali spacer bead, and another crystal.
TIP - Vary the design if you like by adding or removing crystals to make them longer or shorter, or instead of using a headpin, use an eyepin instead (with loop at the bottom) and attach a dangling crystal underneath the leaf bead. Your crystals don't have to match the color of your leaf bead, just do what feels right and have fun!
Step 3
Make loop and attach to earring components
Use your round nose pliers to create a basic loop. If you need help, follow these instructions. Attach the loop to the loop at the bottom of the earring component. That's it!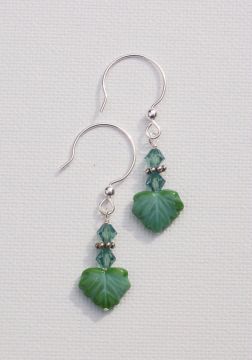 ---
Matching Jewelry Set
Try making this matching mother's bracelet for a complete set! Wouldn't this make a great gift for mother's day jewelry, or a birthday made with mom's birthstones?