Necklace
Projects
Learn to make your own beautiful necklaces
These free necklace projects should spark your inspiration!
Necklace projects are a great way to use your jewelry making skills. Imagine creating a unique handcrafted necklace set, or a special pendant or choker to match your outfit! How about making your own wedding jewelry? Here are several free step-by-step necklace projects to have you making your own great necklaces in no time.
I've included several free necklace projects, below, including a briolette bead necklace, a turquoise necklace, a lariat necklace, a beautiful Swarovski crystal and pearl necklace, and a lampwork bead necklace. Learn how to make all of these great designs, with easy free step-by-step jewelry making instructions and my tips to make it fun and easy for you to make your own necklaces and pendants.
Also, be sure to find the latest new design ideas and special projects over on the Making-Jewelry Network: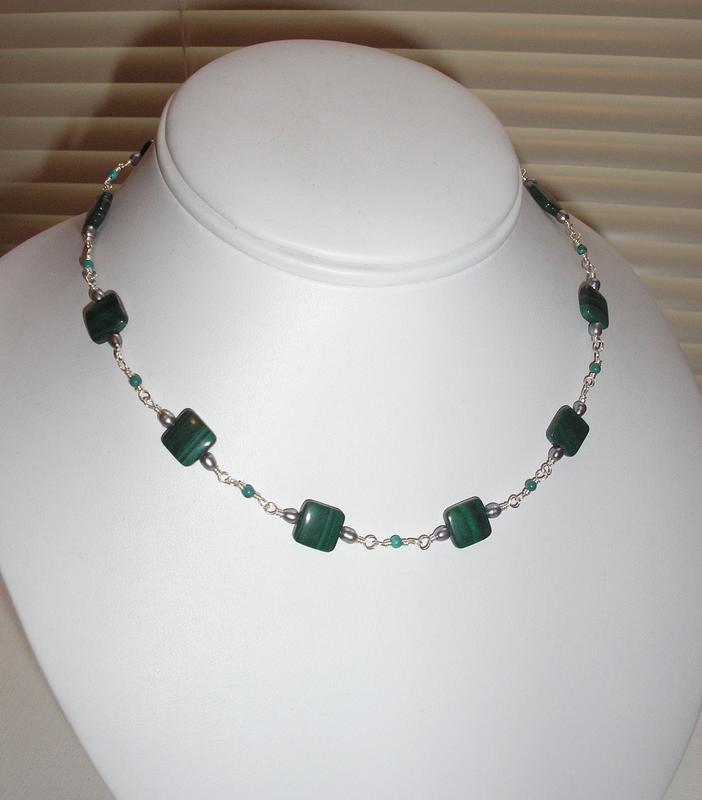 Malachite Bead Necklace - Gorgeous green malachite beads are the focal point in this beaded chain necklace. Accented with seed pearls and turquoise.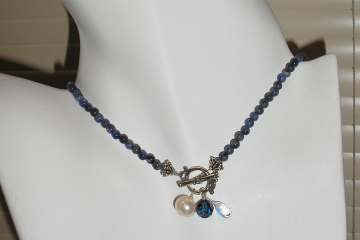 Sodalite Toggle Necklace - Pretty blue sodalite beads in a simple strand with a front-facing toggle clasp and accent beads.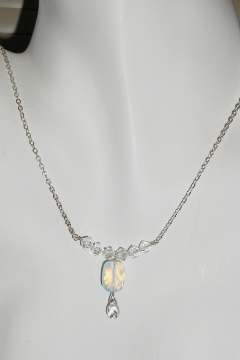 "Moonglow" Opalite Pendant - pretty opalite pendant off-set with sparkling crystals in a delicate design.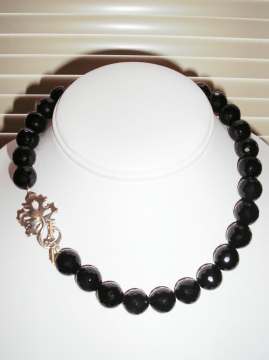 "Midnight" Black Onyx Necklace - A simple strand of jet black beads with a gorgeous clasp makes a quick and easy, yet stunning design.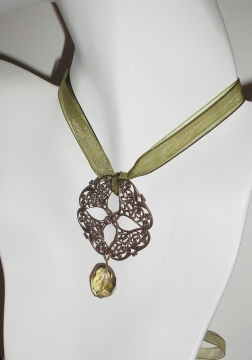 "Victoriana" - Vintage Filigree Pendant - Quick and easy design! A vintage-look brass finding strung onto organza ribbon makes a simply beautiful pendant.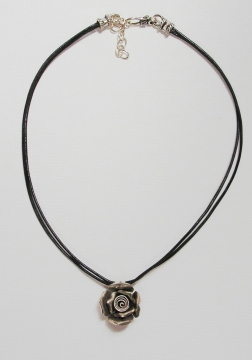 Hill Tribe Silver Pendant - A pretty silver rose pendant is strung on leather cord in this easy to make necklace.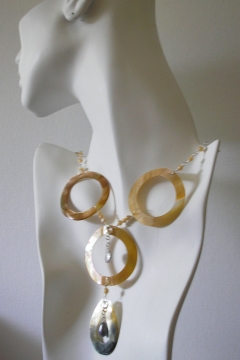 Shell Bead Pendant with Pearl Drops - A fabulous organic design of mother of pearl shell donut beads, and wire wrapping, with dancing pearl drops!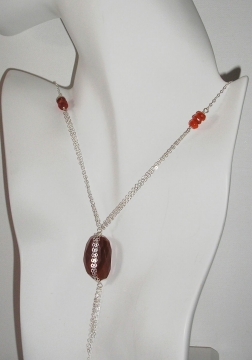 Carnelian Nugget and Chain Necklace - A carnelian nugget bead is showcased in sterling silver draping chain.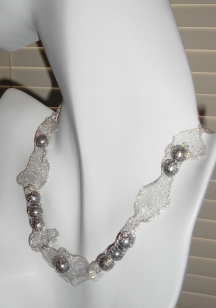 Metal Mesh Necklace with pearls - Charcoal gray pearls are contained inside this delicate wire mesh, with tiny crystals sparkling throughout. Unique!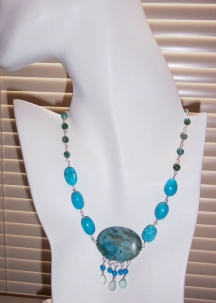 Turquoise Jasper Pendant - A gorgeous and unique pendant with turquoise beads and aqua blue chalcedony briolette drop detail on a turquoise jasper oval stone.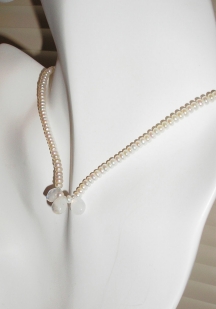 Moonstone and Pearls Necklace - Freshwater button pearls with three simply perfect moonstone beads.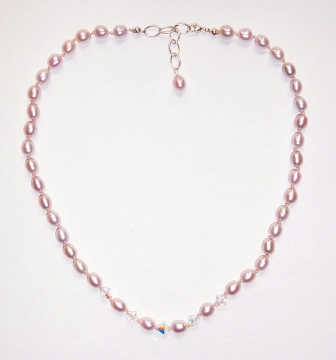 Pink Pearl and Crystal Choker - This classic design is perfect for wedding jewelry. Pink freshwater pearls are hand-knotted on silk thread, with sparkling Swarovski crystal details.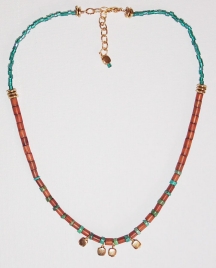 Turquoise Heishi and Wood Bead Necklace - This simple design is great for summer. Features wood beads, turquoise heishi beads, and gold "chiclets".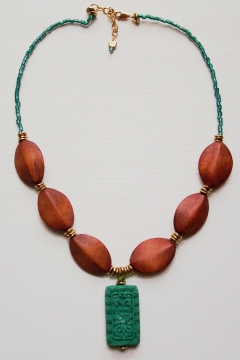 Turquoise and Wood Pendant - This pendant features a carved turquoise colored focal bead and big wood oval beads. Funky and fun!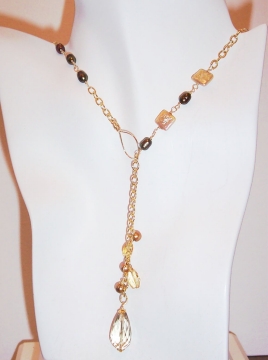 Lemon Quartz Lariat - This fabulous lariat is made with a handcrafted wire toggle with a lemon quartz drop, citrines, and gold and green pearls attached to gold chain. Wow!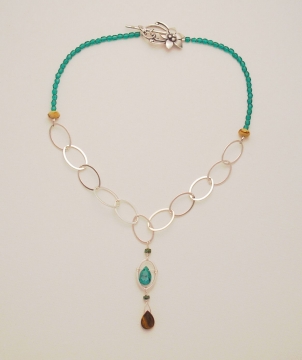 Link Chain Briolette Necklace - uses the contemporary new large oval link chain with briolette beads. Make this unique, handcrafted necklace set.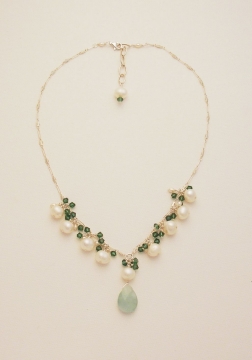 Pearl and Swarovski Crystal Necklace - a classic and adaptable design using two favorite materials, pearls and crystals
Lampwork Glass Bead Necklace - take advantage of your special lampwork beads set by integrating them in this wire wrap design