Hill Tribe Silver Pendant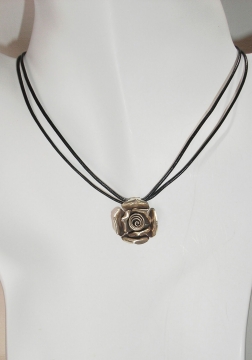 About This Design
Time: Approximately 15-30 minutes
Level of Difficulty: Beginner - All Levels
Cost: Varies, depending on materials selected. Approximately $15-25 as shown.
I wanted to make a super easy necklace to wear with casual summer fashions, so what better than a simple mix of leather cord and a gorgeous rose in this Hill Tribe Silver Pendant? Hill Tribe silver is made by the Karen Hill Tribe in Thailand and there are many wonderful pendant and drop designs available for use in your jewelry. Select a favorite focal piece of Hill Tribe silver to use as your pendant, string it on leather cord, attach a jewelry clasp of choice, and you have a super fast and easy pendant that will go great with nearly everything!
Want to make this necklace, or a variation of it for yourself? Let's get started!
Step 1
Gather Supplies
1 or more strands of leather cord
1 Hill Tribe Silver Pendant - I used a rose pendant, which I purchased here: Hill Tribe Silver Rose Pendant
2 tab or cord ends for attaching the leather. I used round crimp style tube cord ends but any style that can pinch the leather will work. Cord Ends for Sale on eBay
1 Clasp of choice. I used a few inches of bulk chain and a silver hook style clasp
2 open Jump rings to attach clasp to cord ends
Optional - jeweler's cement or glue
Need Supplies? Check my Jewelry Supply pages to find what you need!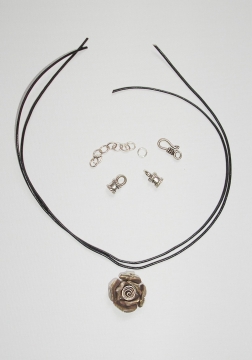 Step 2
Attach the leather cord ends
Cut the leather to desired length. I used two pieces of leather, 15 inches long (38 cm) so it would be a choker length.
Slide the Hill Tribe pendant onto the leather cord. Insert leather into cord end on one side. Add a drop or two of jewelers cement or glue for added security. Pinch the cord ends closed using your flat or chain nose pliers so it holds the leather cord tightly. Follow the instructions below for how to attach cord ends for the type of cord ends you have selected.
How to Attach Spring Cord Ends
Repeat, attaching the leather cord to ends on the other side of the necklace. If you have used glue, let it dry for a couple of minutes before proceeding so you don't make a mess on your hands or workspace.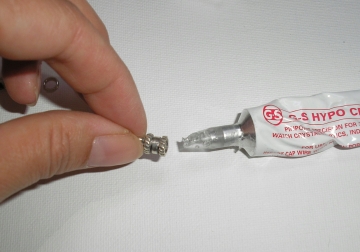 Squeeze the clasp tightly to press the leather inside the end.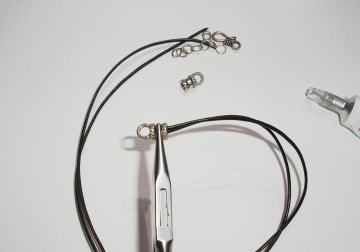 Step 3
Attach clasp
Use your pliers and open jump rings to attach the cord ends to your choice of clasp. Open the jump ring, slide it onto your cord end, and onto your clasp, then close the jump ring.
I used a length of bulk oval link chain (as an extender chain) on one side, and a simple S-hook clasp on the other. You can use any style of clasp, or clasp with extender chain that you like. (Note - My hook clasp already had an open loop on one end so I didn't need to use a second jump ring, I simply attached the clasp directly to the cord end.)
Follow these instructions for opening and closing jump rings.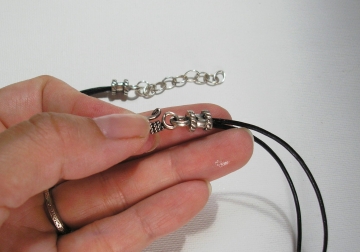 That's it, your new Hill Tribe Silver pendant is ready to wear!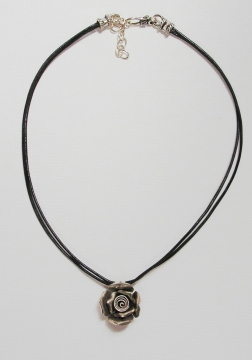 ---