How to Properly Open Jump Rings
Jump rings are so handy in jewelry design! You may use them to attach components, charms, clasps, etc. so it is important that you learn how to properly open and close these. If you do it wrong, you will lose the round shape and they won't be as strong. Here is how it is done:
Step 1
First, don't do it the wrong way. The wrong way is to grab each side of the ring and pull it apart like you are opening a fortune cookie. No, do it this way instead!
Grasp either side of the wire ring, right at the split in the wire. Use one set of pliers to push down, and one set of pliers to pull up. This will twist open the wire vertically by creating a gap between the top and the bottom wires of the ring.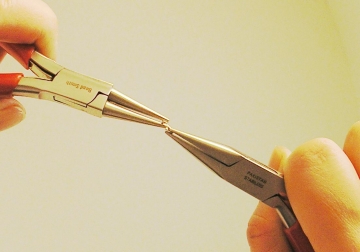 Step 2
Use the gap between the wires to slide your ring onto your component. Follow exactly the reverse step to push both wires back closed together.