Pearl and Moonstone Necklace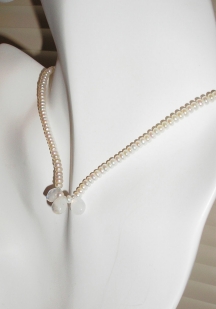 About This Design
Time: Approximately 20-30 minutes
Level of Difficulty: All Levels (with Basic Wire Wrapping Knowledge)
Cost: Varies, depending on materials selected. Approximately $15-20 as shown.
This pretty pearl and moonstone necklace is very simple to make. Opal-like moonstone has an inner glow and catches the light--reflecting blue and pink...so pretty, and what could be better than to pair this with shimmering pearls? I used tiny little button pearls and three briolette moonstone beads to create a very simple feminine design that can be worn comfortably with anything. From a summer wedding, to a casual bar-b-que with friends, this design works!
Want to learn how to make this necklace, or a variation of it for yourself? Let's get started!
Step 1
Gather Supplies
Notes: Decide how long you want your handcrafted necklace to be. I went for a choker length of about 15.5 inches (about 40cm).
3 moonstone briolette beads, smooth or faceted. Moonstone briolette beads for sale on eBay
Length of flexible jewelry wire (like Soft Flex or Beadalon), enough for length of necklace plus several inches to work with. Use a fine gauge to fit through pearl holes.
1 strand of small, freshwater button pearls, or pearls of choice. Freshwater pearl bead strands for sale on eBay
2 crimp beads
1 toggle clasp of choice. I used a sterling silver clasp.
Need Supplies? Check my Jewelry Supply pages to find what you need!
Step 2
Thread beads onto wire
Tie a knot on one end of the wire, or place some tape over the end, and string all of your beads onto the wire. Check the length and overall design and make adjustments by adding, removing, or re-positioning beads until you are happy with the look of the bracelet. You can do this first on a bead design board if you prefer or use a ruler.
I strung my three moonstone briolette beads right in the center of my design, with one pearl separating each bead.
Step 3
Attach the clasp
Untie your knot or remove the tape. Slide a crimp bead onto the end of wire, and thread the wire through the loop on the clasp, and back through your crimp bead. Crimp the bead flat or use a crimping tool to close the crimp. Follow the How to Use Crimp Beads instructions if you are not familiar with this technique.
TIP - For an even more finished look, cover your crimp beads with the new crimp bead covers!
That's it. Your great new moonstone and pearl necklace is ready to wear!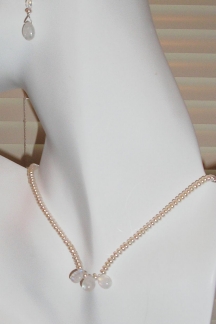 ---
Matching Jewelry Set
Try one of the matching the moonstone and opalite earrings projects!