Welcome, fellow jewelry making friends!

There are lots of good things in the Autumn Making-Jewelry.com newsletter:

This is the fourth issue of the Making-Jewelry e'Zine. Nearly 500 of you have subscribed so far, so a big "Thanks" to all of you for subscribing and showing an interest in my jewelry making website and newsletter! A few of you inquired about the missing jewelry newsletters for August and September- but I got so busy that I actually never sent them--so my apologies if you missed the newsletter! But, I'm back on track with lots of new and exciting jewelry fun coming your way. The cooler weather and holidays are coming with lots more time to spend indoors--so what better time to start making lots of jewelry?

It's October already?! Already in my hometown of Portland, Oregon I am seeing the leaves changing colors and dropping to the ground. The change of seasons is always good for new jewelry inspiration and fresh ideas. Also, fall fashion trends are always exciting and it's fun to keep a watch on trends--the colors and styles of clothing will influence the jewelry you make this autumn as well.

So what's new for fall? Well, the color RED is going to be big this fall. So, be sure to pick up some red beads for your projects. Try crystal, colored freshwater pearls, or semi-precious gemstone beads in garnet, red chalcedony or even some ruby beads for something truly special. Dark grey and brown will be in style as well, and black is back--if it ever really left--there is black clothing in the stores every place you look. This gives you a chance to make jewelry in some basic colors that go well with everything--black, white, silver, gold--or if you want to mix things up a bit go ahead and pair your black clothing with a color-contrasting piece of jewelry--it will really pop out! Try turquoise on black and you'll see what I mean! Gold is making a comeback, but silver is still going strong, so use whatever color metal you like best in your designs. The price of silver and gold is still higher than the last several years, so don't hesitate to try brass or base metal in the jewelry components that don't touch the skin, such as headpins used in dangling earrings. You can still use sterling silver or 14KT gold-filled components for the ear wires or posts (for those who have metal allergies).

So, this month I am focusing on autumn inspired designs with rich colors. Listed below are the new jewelry designs just added to the site.
New Necklace Designs:
New Earring Designs:
New Bracelet Designs:
---
Have you seen the jewelry Designer's Gallery ? The gallery gives you a chance to share your own jewelry designs with the world! Just go to the Designer's Gallery , and send me your jewelry idea and photos and I will upload it to the site. If you have a website or other contact information, I will link to it for you and get you some free press! :-)
Thanks to the following jewelry designers for sharing their great ideas and inspiration over the past couple of months!
Pamela Bruce - "Nature's Treasure" - http://www.lovebeadsunlimited.com
Linda Ackerman - "Baroque" - http://store.dillondesignsjewelry.com
Randi Deckard - "Remembering Ena" - www.designing-diva.com
Sylvia de Vanna - "Pacific Breeze"
Arriel - "Custom Vintage Designs" - www.ari-designs.com
---
September's modern birthstone is the sapphire. Sapphire is one of the most prized gemstones in the world, and it is a member of the corundum family of minerals. It rates a "9" on the Mohs' gemstone hardness scale (right behind diamonds at 10). The most popular sapphires are a wonderful cornflower blue color, but actually sapphires come in many different colors (a red corundum is actually known as a ruby). Most sapphires are found in Ceylon, Thailand, Australia, India, Burma, Africa, and Brazil. (information on sapphires from About.com). Sapphire mystic lore: Intuitive sources say that Sapphire can enhance one's intuition, bringing joy and peace to the mind. It is said to bring prosperity and the fulfillment of one's dreams. It can be used to enhance psychic ability and to help one to develop increased mental powers." (Information from heavenandearthjewelry.com)


October's modern birthstone is the opal. Opals come in many different colors, but are most commonly found in a milky white, semi-translucent color. Black opals are the most rare and expensive opals. Another type of opal is the fire opal. Regardless of type, all opals are well-known for their unique fiery refraction of light, flashing a rainbow-like colored effect when viewed from different angles. Opals are a relatively soft gemstone, rating only 5-6 on the Mohs' scale. This means they need special care and cannot be cleaned with harsh chemicals. Opals are made up of almost 10 % water, and it is often advised that opals be periodically soaked in water to keep them from drying out and becoming too fragile. The opal is said to be a stone of happy dreams and good changes. (Information on opals from About.com). Try opalite beads as a less expensive alternative to real opals. Try the new opalite necklace just added to the site, or the opalite earrings!
---
Looking for special deals to save some money on jewelry making supplies? Here is what I have scouted out for you this month!
Beadbabe.com is running a special on Chinese celestial and Swarovski crystals. Until October 14th, all crystals are 50% off. If you subscribe to their newsletter you can get another 10% off your purchases. Check their website, here.
BestBuyBeads.com always offers a huge selection of Swarovksi crystal beads in many colors, at great prices. And, as my newsletter subscriber, you get another $2 off! To use the BestBuyBeads.com Coupon offer, just enter the code MJ2 at checkout. (Thanks to Laura at BestBuyBeads for providing the coupon!)
FoxyFindings sells on eBay auctions, as well as directly from their website. Foxy Findings is a great source of vintage-look findings and castings made from brass and other metals. FoxyFindings is also a great place for jewelry kits if you are having a little trouble coming up with a fresh idea. To use the FoxyFindings.com Discount offer, enter the code FOXY at checkout and receive 15% off your total order.
Auntie's Beads - Auntie's is always having a sale on something, so be sure to check out their website specials. This week, enter code TENFOURGOODBEADER - Receive 10% off everything in your entire order. Offer expires October 16, 2006. If you subscribe to the Auntie's newsletter, you will get additional coupons and special offers--newsletter subscribers this week get an additional 20% off pendants. There are also several Auntie's Beads coupons on this coupon website.
ArtBeads - Always check for the weekly online coupon for additional savings (this week an added 5% off). This month they have added a new line of hand-painted porcelain pendants, so for a really unique design, go check them out! Check for Specials on Artbeads.com
---
Here is the newsletter-subscribers-only project design idea of the month, sent to you because you are an exclusive member of my e'zine newsletter.

Autumn Moonlight Necklace
About This Design
Time: Approximately 1 hour
Level of Difficulty: All Levels
Cost: Varies, depending on materials selected. Approximately $20-30 as shown.
This triple strand design features a single coin pearl, inspired by the autumn moon rising in the blue sky. I used midnight blue goldstone beads, iolite, and gray pearls in my design, but any color of beads will work.
Want to make this necklace, or a variation of it for yourself? Let's get started!
Step 1
Gather Supplies
3 strands of blue beads. I used iolite, gray pearls, and blue goldstone beads in my design
1 silver coin pearl (the moon)
3 lengths of flexible beading wire, enough for your necklace plus several extra inches to work with
6 sterling silver crimp beads
1 fancy clasp of choice. I used a sterling silver toggle clasp.
Need Supplies? Check my Jewelry Supply pages to find what you need!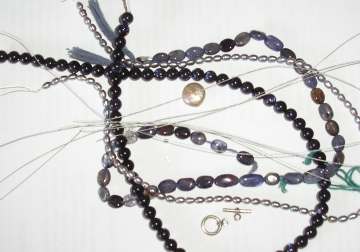 Step 2
String the beads
This is a three-strand design. To make my design asymmetrical, on one strand, about two-thirds of the way up one side I strung the pearl bead as the "moon" rising in the sky of this design. You can place the pearl anyplace you want in your design, in the center of the necklace if you want.
Treat each strand as a separate necklace. I made mine so each strand was a slightly different length so they all hang in a row together.
Tie a knot on one end of the wire, or place some tape over the end, and string all of your beads onto the wire. Check the length and overall design and make adjustments by adding, removing, or re-positioning beads until you are happy with the look of the necklace.
You can do this first on a bead design board if you prefer. Make sure you account for the added length of the clasp.
TIP - You can start a necklace by attaching the clasp to one end first, However, if you are unclear about your final design or the finished length, it is best to simply tie a knot or place some tape over the end of the jewelry wire, string your beads, and once you are happy with the design and length, attach the clasps to the ends. This way, if you find you need to subtract or add beads you can just remove the tape or knot and work from either end without having to cut off your clasp and start the whole thing over!
Step 3
Crimp ends and attach the clasp
Slide a crimp bead onto the wire, feed the wire through the clasp loop, then back through the crimp bead. Pull the wire snug, and crimp the bead closed. Follow the How to Use Crimp Beads instructions if you are not familiar with this technique.
Repeat on other side, making sure you pull the wire tight to beads before crimping. Do this for each strand of the necklace.
TIP - Because this is a toggle clasp, you will want to leave a little "play" in the wire so the clasp is easy to put on, so leave a little room where the loop of wire attaches to the clasp. Cut off remaining tails of wire with flush cutters.
TIP - As an option, try the new crimp bead covers to hide crimps for an even more finished look.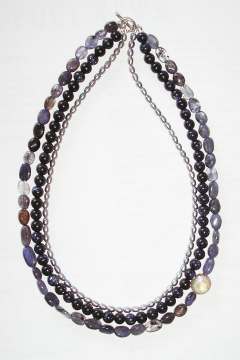 That's it, your new moonlight pendant is ready to wear!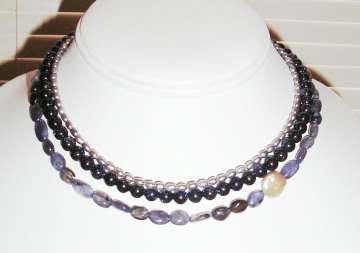 ---
Did you know you can turn your fun hobby of making jewelry into a great business?
For those of you who have purchased my ebook on how to run a home jewelry party business, How to Run a Home Based Jewelry Party Business for Fun and Profit"--THANK YOU! It's great to share my knowledge and experience with you. Your feedback and comments on the book are always appreciated. If you are interested in running your own jewelry party business and working from home, check out my website for more information on how to get your copy of this great book, "How to Run a Home Based Jewelry Party Business for Fun and Profit".
This month, I am reviewing a brand new jewelry business book, the Ultimate Guide to Your Profitable Jewelry Booth. This excellent guide is written by Rena Klingenberg, a successful jewelry artist and business owner. Rena is also the creator and owner of www.home-jewelry-business-success-tips.com. Rena has compiled her years of experience in selling jewelry at craft fairs and shows into one awesome book. If you want to venture into selling your own jewelry and becoming more profitable--check out her book, because you will definitely learn many practical ways to increase sales and improve your success as a jewelry designer. Not only will you save money from not making many common mistakes, but you will certainly increase your profit potential and earn much more at your next show, just from implementing a few of Rena's secret strategies. Rena is an excellent author, and her book is written in a friendly, easy-to-read style. I highly recommend it! Don't wait, if you get your own copy of this great book today you will also receive three special bonus items.
---
Thanks for reading the newsletter this month. Remember to check www.Making-Jewelry.com often for more "How To's" and project ideas. We've only just begun and there are many exciting things coming on the website. "From inspiration to your creation…" Take care, happy beading, and have a great month!
Know somebody who'd like to read this?

I really hope that you've enjoyed reading this newsletter. If you think your friends might be interested in taking a look, please feel free to forward it to them.

Haven't subscribed yet?

If you're reading this on the recommendation of a friend and would like to receive all the future editions, you can subscribe for free by clicking this link.

Contact us:

If you have any comments, opinions, or content ideas I'd love to hear from you. Just click on the this link to access my contact form.
Best Regards,
-Lorri Ely, Jewelry Designer and Owner of www.Making-Jewelry.com
---
---