How to Finish Cord Jewelry
Cord jewelry is modern, fun, and contemporary, and goes great with casual fashions. And, it is very simple to finish and you can complete a pendant in no time at all!
---
For leather cord, rubber cord or suede lace jewelry, you will be using a little bit of glue or jewelers cement (like E6000) , and a tab endcap to hold the ends.
Step 1 - Add some glue
Gather your components and glue. Place a small drop of glue on the end of the cord. Carefully place the cord into the endcap. Leave a little space at the end so you can attach your ring and chain.
Add some glue to the end of the cord: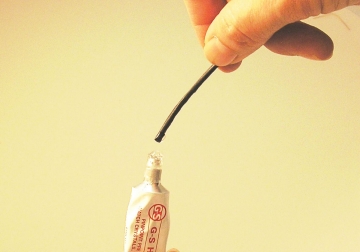 Step 2 - Fold down the endcaps
Using your flat or chain nose jewelry pliers (not a crimping tool), simply squeeze down the tabs of the folds on the endcap so that they are securely holding the cord into place. Repeat these steps on the other end of your piece.
TIP - It is recommended that you hold this in place with your pliers for at least 30 seconds to a minute to allow the glue to take hold and dry a little bit for an extra secure finish. Let the necklace or bracelet dry for a day before wearing it so you don't pull out your ends!
Place the cord into the channel: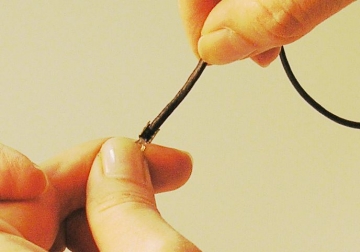 Carefully use flat nose pliers to bend the tabs down and around the cord on both sides: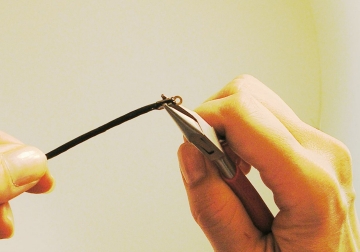 Step 3 - Attach your clasp
That's it! Now you can attach a jump ring, split ring or other finding to the endcaps and then attach an extender chain or clasp to your piece, and your jewelry is ready to wear!
Finished end cap with both ends folded tightly around cord. Now, attach a clasp to the loop on the end and you're done!