How to Use Split Ring Pliers
These pliers are handy if you plan to use split rings. What are split rings, you ask? They look like miniature keyrings, and just like the full size keyrings, they are hard to slide things onto! It takes a little practice, but is still easier than trying this without the pliers. Don't break a nail, get yourself some split ring pliers and attach your split rings with ease. Here is how it is done.
Step 1
Use your split ring pliers to separate the wires close to one end of the wire spiral. Close the pliers gently so the top curved "nose" tip of the pliers separates the two wires. This will create just enough of a gap so you can begin to slide a jumpring component onto the split ring.
Close the top tip of the pliers so that it forces the ring open: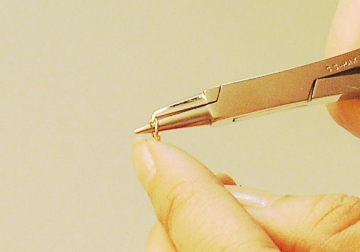 Step 2
Use your flat nose pliers to push/roll the jump ring or component around the split ring, until it closes onto the ring. This takes a little practice but you'll get it!