How to Use Stretch Cord
Stretch jewelry cord, or elastic cord, is a great bead stringing material, especially for bracelets! You don't need to use a clasp, so the cost of making jewelry is lower, too. All you have to do is string your beads onto the elastic, then knot and glue the end. Or, you can simply thread the ends through a crimp bead and crimp the bead flat to hold the elastic instead.
Step 1
String your beads onto a length of elastic cord. Allow several extra inches so you will have something to knot with. Pull the elastic cord tight, and begin to make a knot. I have seen several knots recommended for this purpose. You can do a double overhand (regular) knot, a surgeon's knot or a square knot. TIP: I have had all my beads fall off while trying to hold the cord taut while I make the knot. To make life easier if you plan to make lots of elastic jewelry, buy a "third hand" tool (used by metal smiths) to hold your piece steady with tweezers while you make the knot!
For illustrative purposes so you can see my stretch cord a little better, I have not used any beads in my example. You will have strung all your beads before starting the knot. Start the knot.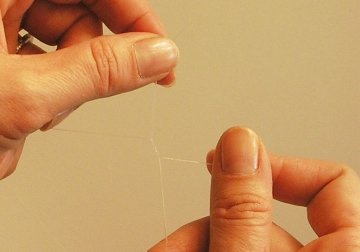 Step 2
Knot step 2 - Next, close the knot with a regular overhand knot, and pull the knot tight.
Step 3
Important - You MUST add a drop of glue or cement to the knot and hold it still for 60 seconds or so to allow to dry. If you skip this step, the knot will likely work itself loose and your piece will break! Once the glue has dried, clip off the ends. Hide the knot inside a bead. That's it!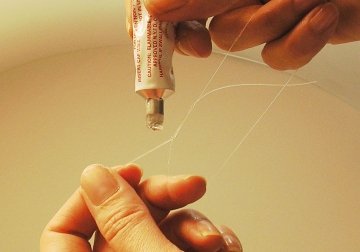 ---
Learn More
To learn how to tie a knot go to www.softflexcompany.com