Blue Crystal Cluster Earrings Project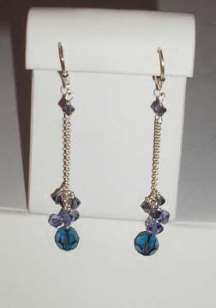 About This Design
Time: Approximately 30 minutes
Level of Difficulty: Beginner - All Levels
Cost: Varies, depending on materials selected. Approximately $10-20 as shown.
Here, the ever-popular Swarovski crystal beads in multiple blue colors are swinging from chain in a cluster. Choose any color combination and size/shape of crystal beads for your own unique design variation.
Want to make these earrings, or a variation for yourself? Let's get started!
Step 1
Gather your supplies
14 Headpins (one for each crystal, except the two on top)
16 Swarovski crystal beads in your choice of colors, shapes and sizes. I used blue colors in my design. Add more crystals if you like!
A length of sterling silver wire (thin gauge to fit through bead holes)
2 earwires, french hooks, leverbacks or posts (your choice)
Length of sterling silver chain
Need Supplies? Check my Jewelry Supply pages to find what you need!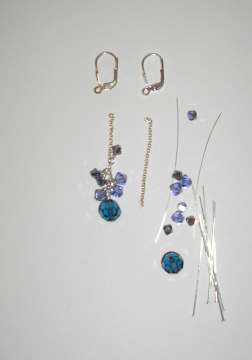 Step 2
String crystal beads onto headpins and attach to chain
Assemble all of your crystal beads, slide them onto headpins, and make a loop at the top with your round nose pliers. If you need help learning how to do wire loops, follow these step by step instructions.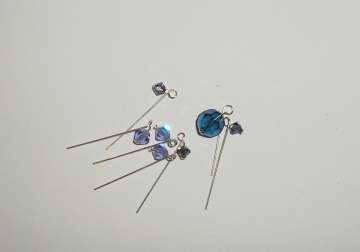 To start assembling the earrings, we will start with the bottom crystal bead. Attach it to the bottom of the chain, and close it with a closed wire loop.
Next, attach the smaller crystals at different positions along the chain. You will attach all of the crystals, with closed wire loops, except the top two crystals.
Step 3
Attach top crystal bead using wire loop technique
Cut a few inches of silver wire. Use your round nose pliers to create a basic loop. If you need help learning how to do wire loops, follow these step by step instructions. Attach the loop to the chain and make a closed wire loop. Slide the crystal onto the wire and make another loop. Attach the top loop to the earring component, and close it.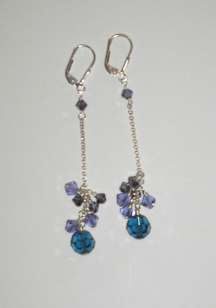 That's it! Enjoy your new swingy fun earrings!