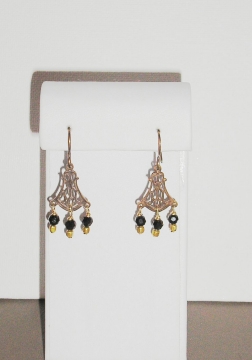 About This Design
I was in a vintage fashion mood, so I wanted to make some earrings using antique-look brass findings. This pair goes well with the vintage look pendant featured on the site, or when worn on their own. Stamped brass findings lend a real antique appearance and look great! Picture wearing these with a bohemian skirt or pretty feminine sundress! Because it's summertime, I also wanted to feature a very fast and simple 3-Step design so you can whip up these earrings in less than half an hour and be on your way. You can certainly modify this design by adding dangling chains and lots more beads, so feel free to improvise to get the look you want!
Time: Approximately 30 minutes
Level of Difficulty: Beginner - All Levels (some wire wrapping)
Cost: Varies, depending on materials selected. Approximately $10 as shown
Step 1
Gather Supplies
2 brass or vintage-look earring dangle components with holes for attaching beads (Check out FoxyFindings.com, or your local bead store)

6 small crystal beads (check out BestBuyBeads.com), or enough beads to work with the earring component you selected. I used burgundy colored beads in this design.

6 small brass or other accent beads (your choice)

6 headpins (brass or gold color)

2 brass or metal ear wires (hooks, lever backs, posts--your choice)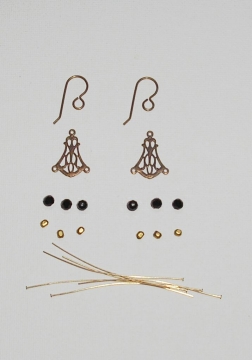 Step 2
String Beads on Headpins
String all of your beads onto the headpins, and make a round loop at the top. Attach the loop to the holes in the earring component, and make a simple closed wire loop.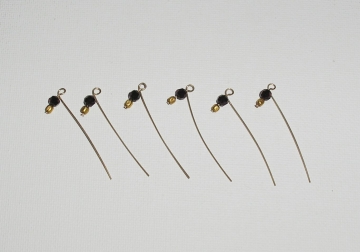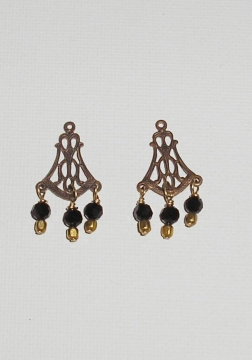 Step 3
Attach to earring
Use your pliers to open the loop on the earring wire. (Follow these instructions on how to properly open and close a wire loop). Slide your finished earring onto the loop, and carefully close the loop using your pliers. That's it, your new "vintage" earrings are ready to wear!