Carnelian and Chain Earrings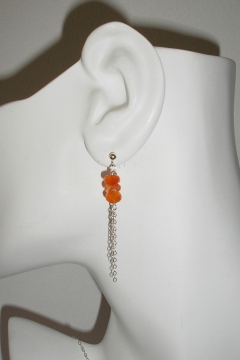 About This Design
Time: Approximately 30 minutes
Level of Difficulty: Beginner - All Levels
Cost: Varies, depending on materials selected. Approximately $10-15 as shown.
These gorgeous carnelian and chain earrings are swingy and fun. Featuring bright deep-orange natural carnelian gemstone beads, and delicate silver chain.
Want to make these earrings, or a variation for yourself? Let's get started!
Step 1
Gather your supplies
6 - faceted carnelian beads (I used rondelles). Carnelian Beads on eBay
Several inches of bulk sterling silver chain. Bulk chain on eBay
A length of sterling silver wire (thin gauge to fit through bead holes)
2 earwires, french hooks, leverbacks or posts (your choice)
Need Supplies? Check my Jewelry Supply pages to find what you need!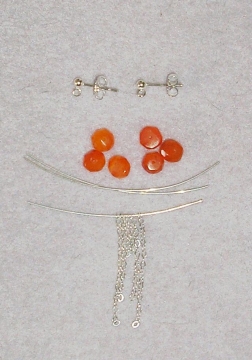 Step 2
Attach chains
Cut three lengths of sterling silver chain for each earring. This will be the fringe that hangs at the bottom. Cut the chain as long as you like, and feel free to add more chains if you like to get the look you want.
TIP: To cut all the chain the same length, slide the chain onto a headpin and let it hang down. You can then easily cut the bottom of each chain to the same length.
Cut a length of silver wire for each earring. Make a wire loop on the end of the wire, and attach the chains, and close the loop. If you need help learning how to do wire loops, follow these step by step instructions.
Step 3
Add carnelian beads and attach to earrings
Slide the three carnelian beads onto the wire, and make a loop. Slide the loop onto your earring component and close the loop.
That's it, your carnelian bead earrings are ready to wear!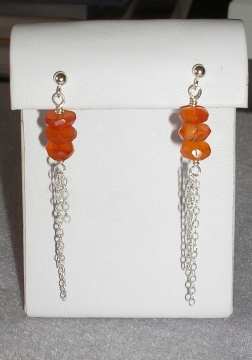 ---
Matching Jewelry Set
These earrings look great with other carnelian jewelry.