Swarovski Crystal Chandelier Earrings Project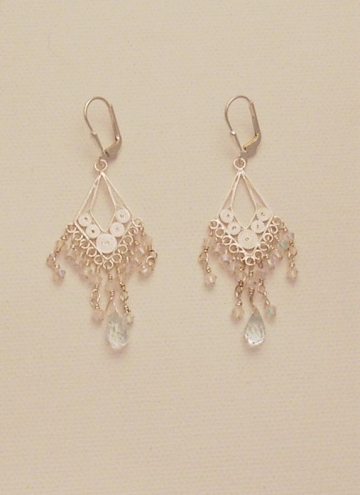 About This Design
Time: Approximately 1-2 hours
Level of Difficulty: All Levels (with Basic Wire Wrapping Knowledge)
Cost: Varies, depending on materials selected. Approximately $15-25 as shown.
These chandelier earrings are wonderfully fun, swingy and eye-catching, and chandelier style earrings are still going strong as a fashion statement. Make these in any colors you desire. I wanted to showcase some super fine aquamarine briolette stones, so I chose totally clear Swarovski crystal beads to complement but not compete for the delicate aqua of the gems.
Want to make these earrings, or a variation for yourself? Let's get started!
Step 1
Gather your supplies
30 Swarovski cystal beads in the color of your choice. Here I am using clear crystal AB.
30 Headpins for attaching crystals
Two briolette beads of your choice. Here I am using genuine Aquamarine briolettes
Two chandelier earring components of your choice. Note, if you have less or more loops, you may need to change the number of crystals for this project.
Two earring components of your choice. I am using leverbacks, but you can use french hooks or posts if you prefer. TIP: I use leverbacks on heavier or longer designs because they are more secure. If you use hooks, attach a rubber backer to them to keep from sliding forward out of ears!
Sterling silver wire for wrapping loops on 4 sets of dangling crystals
Need Supplies? Check my Jewelry Supply pages to find what you need!
Step 2
Prepare Crystal Dangle Components
We will be attaching a single crystal bead to the bottom of each loop on the chandelier component, with the exception of four "drops" where we will attach two crystals, and the center drop where we will attach the briolette.
I find it easier to prepare all my crystal danglies first, then attach them all with my pliers at the same time. Make a basic loop (if you aren't familiar with this technique, read How to Wire Wrap a Basic Loop). For four sets of these (per earring), attach one crystal dangle to the bottom of another one. You will need to create a wire loop on the top and bottom of one crystal, using sterling silver wire.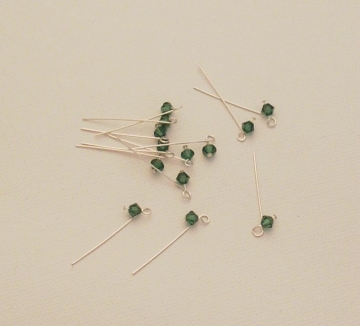 Step 3
Make the Center Briolette Drop.
Wire wrap the briolette bead, and attach it to a crystal that has been prepared with a loop on the top and bottom.
Step 4
Attach the Crystals
Use your flat nose pliers to assist in closing the loops as you attach all the crystals to the chandelier earring component.
Step 5
Attach the completed chandelier to the earring component. That's it!
Varations and Options
You can use any beads you like on these pre-made chandelier components, and it is hard to go wrong. I like crystals as they are eye-catching and work well with the swingy chandeliers. You can also vary the length of each drop. I attached crystals directly to the chandelier component, but you could make chains of 2-4 or even more crystals all linked together to get earrings that are even longer and more dramatic. Experiment with your designs and see what you can come up with!