Coral and Crystal Earrings Project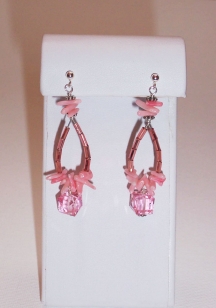 About This Design
Time: Approximately 30 minutes - 1 hour
Level of Difficulty: Beginner - All Levels
Cost: Varies, depending on materials selected. Approximately $10-15 as shown.
Inspired by spring, I wanted to make some lovely pink branch coral earrings. Here, I created a simple wire loop and strung bugle beads with branch coral. Then, I accented the design using the popular Swarovski crystal cube beads. These are eye catching, unique, and fun to wear. You can use any color of bugle beads and crystals that you like.
Want to make these earrings, or a variation for yourself? Let's get started!
Step 1
Gather your supplies
2 Headpins
6 Bali daisy spacers
8 bugle beads (I used a reflective peachy-pink color in my design)
2 Swarovski crystal cube beads (8mm) in your choice of colors. I used Light Rose crystals in my design. Light Rose Swarovski Crystal Beads on eBay
22 branch coral beads. Coral Beads on eBay
A length of sterling silver wire (thin gauge to fit through bead holes)
2 earwires, french hooks, leverbacks or posts (your choice). Because these earrings are dangly, I went with posts so they would stay securely in place on the ears.
Need Supplies? Check my Jewelry Supply pages to find what you need!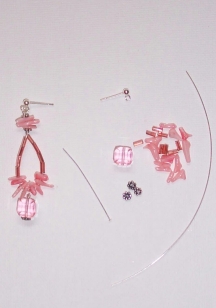 Step 2
Prepare crystal drop bead
Slide a daisy spacer and the crystal cube bead onto a headpin, and make a loop.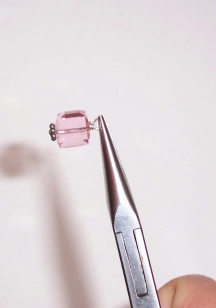 Step 3
Slide all beads onto silver wire.
Slide the bead onto a length (several inches) of sterling silver wire. Make sure you have enough wire to work with on the ends, because you will need to make a top loop to attach to your earring.
Add beads in this order:
1) 4 bugle beads
2) 4 coral beads
3) Add the Swarovski crystal cube bead
4) 4 coral beads
5) 4 bugle beads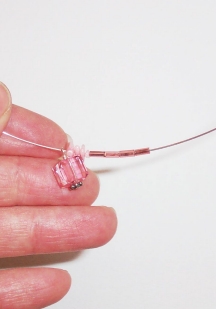 Step 4
Close the top of the wire loop together
Pull the ends of the wire together so they cross, and hold the top as closely as possible to the beads with your pliers. Select one side of wire to be the "stem" and one side to use to wrap with. Bend the stem at a right angle with your chain nose pliers, and wrap the tail wire around the stem a couple of times, and cut off the tail end with flush cutters. This is very similar to the technique used to wrap a briolette bead, so if you need more instructions, click here.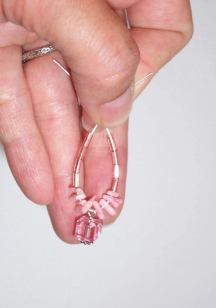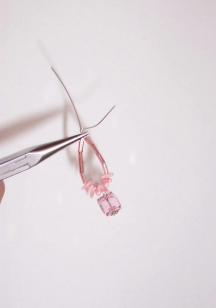 Step 5
Add remaining beads and attach to earring component
Add the remaining beads to the stem. Slide a Bali spacer, 4 coral beads, and another Bali spacer onto the wire. Make a loop with your round nose pliers, attach the loop through your earring component, then close the loop.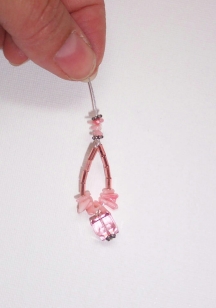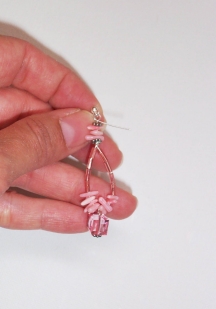 That's it, now do the second earring the same way and your new gorgeous coral earrings are ready to wear!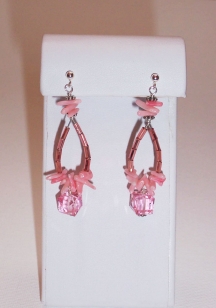 ---
Matching Jewelry Set
Try this matching bracelet for a complete set!