Diamond Shaped Pearl Earrings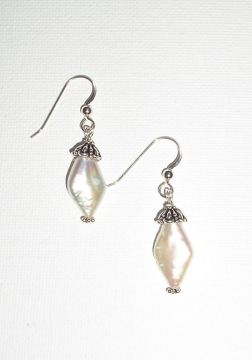 About This Design
Time: Approximately 5-10 minutes
Level of Difficulty: Beginner - All Levels
Cost: Varies, depending on materials selected. Approximately $5-10 as shown.
These diamond shaped pearl earrings go great with the matching pearl and shell bracelet project. These feature freshwater pearls, which are available in many unusual shaped, and decorative silver bead caps. Simple, easy, and pretty.
Want to make these earrings, or a variation for yourself? Let's get started!
Step 1
Gather your supplies
2 Headpins of a gauge that will fit through your bead holes
2 unusual shaped freshwater pearls (I used diamond shaped), such as coin, oval, square, diamond, etc.
2 decorative silver Bali bead caps
2 decorative Bali daisy spacers
2 earwires, french hooks, leverbacks or posts (your choice)
Need Supplies? Check my Jewelry Supply pages to find what you need!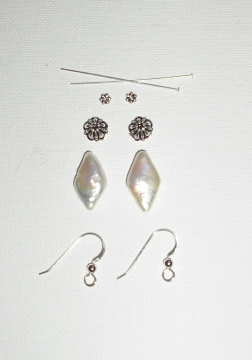 Step 2
String beads on headpin
String a seed daisy spacer, the pearl, and a bead cap onto each headpin.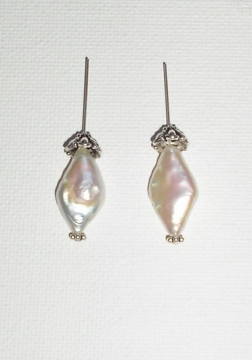 Step 3
Attach to earring component with loop
Using a basic loop technique, make a round loop at the top using your round nose pliers, and then attach the beads to your earring components.
That's it, your perfectly elegant earrings are ready to wear!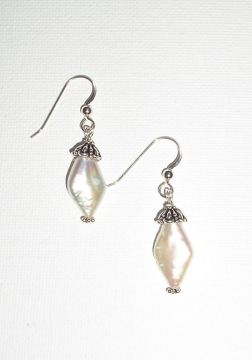 ---