Geometric Bead Earrings

About This Design
Time: Approximately 20-30 minutes
Level of Difficulty: Beginner - All Levels (with basic wire wrapping experience)
Cost: Varies, depending on materials selected. Approximately $10- 15 as shown.
Geometric shapes are going strong as a jewelry fashion trend, and mixed metals are also in style. I found these great brushed metal beads in different shapes, and decided to make up a pair of very contemporary, mixed-metal earrings.
Want to make these earrings, or a variation for yourself? Let's get started!
Step 1
Gather your supplies
6 geometric shaped brush metal beads. I used two round discs, two gold rounds, and two diagonal squares. Check your local bead store, or I also found lots of great brushed metal beads on eBay
Length of sterling silver half hard wire (24 gauge) and gold-filled wire (optional if you want to use different colors of wire)
2 earwires, french hooks, leverbacks or posts (your choice) I used long sterling silver closed hook ear wires in my design
Need Supplies? Check my Jewelry Supply pages to find what you need!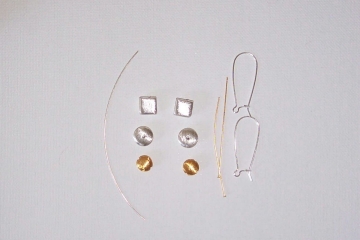 Step 2
Wire wrap the beads and attach to earring components
Decide what order you want your beads to hang in. Cut six lengths of wire. I used mixed silver and gold wire, but it is your choice.
You will use a wire wrapping technique to chain the beads together with closed loops. Follow this technique to wire wrap chain to see how to make connecting loops on the top and bottom of each bead.
Note - The lower bead in my design was a diagonal square, top-drilled (side to side holes) bead, so I also needed to use the technique for wire wrapping a briolette or top-drilled bead. If you also have a top-drilled bead. follow my instructions for wire wrapping a briolette to make a closed loop at the top.
Chain each bead together with closed loops, and on the top loop, attach to your earring component.
That's it, your new earrings are ready to wear!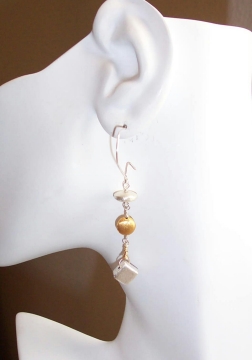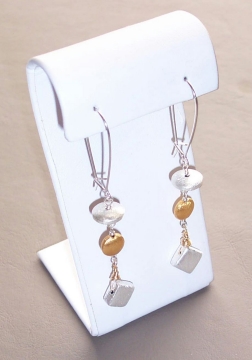 ---