Gold Wire Fringe Earrings

About This Design
Time: Approximately 30 minutes - 1 hour
Level of Difficulty: Beginner - All Levels (some wire wrapping)
Cost: Varies, depending on materials selected. Approximately $10-25 as shown.
Make some creative gold wire earrings that look great with everything! In this design, I wanted to show you how you can use basic wire wrapping to create your own earring finding components. So, using gold wire that I wrapped around a ball point pen, I created this wire loop component, to which I attached a nice fringe of beads. I dangled the whole thing from a delicate chain for movement and eye-catching swing.
Want to make these earrings, or a variation for yourself? Let's get started!
Step 1
Gather your supplies
14 Headpins of a gauge that will fit through your bead holes
14 small accent beads. I used gold and carnelian beads in my design.
1 length of gold filled wire, 18-22 gauge half hard
1 length of gold filled small link chain
2 earwires, french hooks, leverbacks or posts (your choice)
Need Supplies? Check my Jewelry Supply pages to find what you need!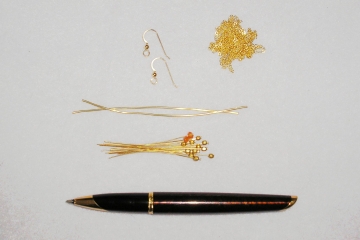 Step 2
Create the wire component forms
Cut two equal lengths of wire. Mine is about 2 inches long (5cm). Find a round form to wrap the wire around to get the desired diameter. I used a fat ballpoint pen as my form. Place the wire so it is centered around the form, and wrap the ends of the wire up so they meet in the center.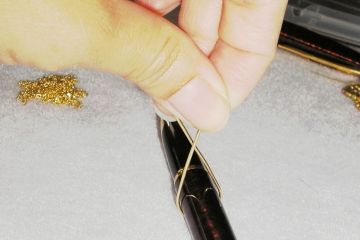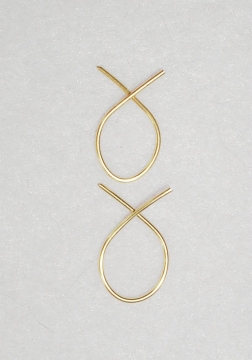 Next, use your round nose pliers, and grab the ends of the wire about 1.4 inch from the tip, and roll the wire down towards the outer side of your earring form as follows. Repeat for all four loops.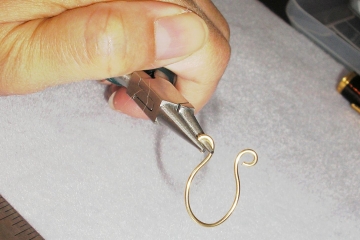 Here are your completed "findings", that you made yourself! If necessary, round them out using your fingers or the pen again to make them as uniform as possible.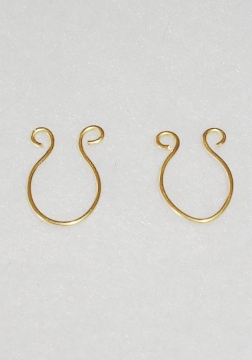 Step 4
Cut your chain and attach it to your earring component forms.
Decide how far down you want your earrings to hang, and cut two equal lengths of chain. TIP - Hang the chain on a headpin to see where to cut to get them exactly the same length.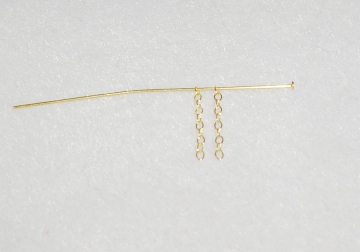 Attach the chain to either end of the round loops on your earring form. You may need to open the loops a bit with the pliers, then close them tightly so the chain doesn't slip off the loop. Hang the chains onto the bottom of your ear wire components.
Step 5
String beads on headpins
String beads onto headpins. Using a basic loop technique, make a round loop at the top using your round nose pliers, and then attach the beads to your earring components. I placed four gold beads, a carnelian bead, and four gold beads evenly on the bottom of each earring component. Add as many beads as you like in your own design!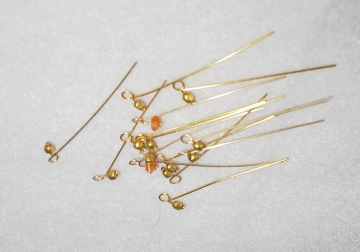 That's it, your perfectly elegant earrings are ready to wear!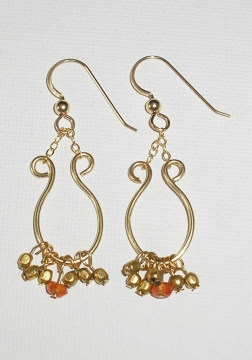 ---