Red Crystal Earrings

About This Design
Time: Approximately 15- 20 minutes
Level of Difficulty: Beginner - All Levels
Cost: Varies, depending on materials selected. Approximately $8-10 as shown.
Pretty red crystals are accented with charcoal gray pearls, and attached to several links of stainless steel chain. Simple and very pretty!
Want to make these earrings, or a variation for yourself? Let's get started!
Step 1
Gather your supplies
2 large and 2 small glass or crystal red beads. Red crystal beads for sale on eBay
2 grey pearls
2 inches link chain (I used stainless steel)
2 head pins
2 earwires, french hooks, leverbacks or posts (your choice) I used sterling silver french hook ear wires in my design
Need Supplies? Check my Jewelry Supply pages to find what you need!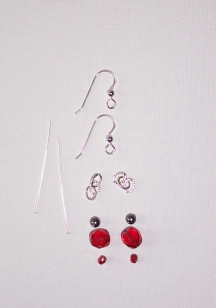 Step 2
Cut and prepare the chain
Cut 2 matching lengths of link chain. I used 3 links in my design. Slide the chain onto the earring component to attach it. Separate the loop on the earring component using pliers, and then push the loop back closed, fastening the chains securely.
Step 3
Attach the beads
Next we will attach the beads on the chain.
Slide the beads onto your headpin, and make a round loop with your round nose pliers. Slide the loop onto the chain, then close the loop. If you need help learning to make a loop, follow these instructions.

That's it, your swingy new chain earrings are ready to wear!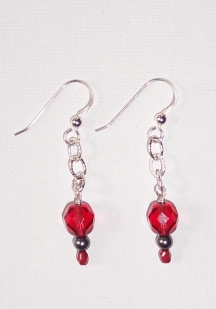 ---