Red Filigree Earrings

About This Design
Time: Approximately 15 minutes
Level of Difficulty: Beginner - All Levels (some wire wrapping)
Cost: Varies, depending on materials selected. Approximately $10-15 as shown.
Look at these pretty red filigree earrings, and they are so easy to make! It's summertime and I want to spend more time outside than indoors making jewelry--but I always want new jewelry to wear, so what's a jewelry girl to do? Make up some earrings super fast by using cast components! Take some filigree components, attach a couple of beads and you're ready to wear your new earrings in less than half an hour!
Want to make these earrings, or a variation for yourself? Let's get started!
Step 1
Gather your supplies
2 filigree earring findings (like chandelier components) . I got my filigree findings here: Filigree Findings for Sale on eBay
6 Swarovski Crystal Beads. I used "Siam" red color. I used six 4mm bicone crystals. I purchased my beads at BestBuyBeads.com
6 Headpins
2 earwires, french hooks, leverbacks or posts (your choice)
Need Supplies? Check my Jewelry Supply pages to find what you need!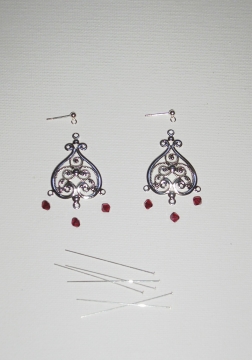 Step 2
String beads on headpins
String beads onto headpins. Using a basic loop technique, make a round loop at the top using your round nose pliers, and then attach the beads to your earring components. Attach the components to the bottom of your ear wires or posts using your pliers.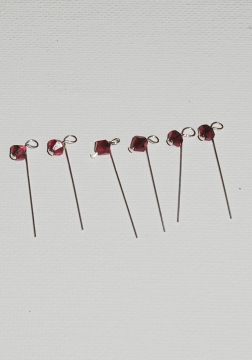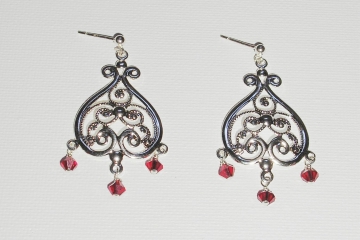 That's it, your perfectly elegant earrings are ready to wear!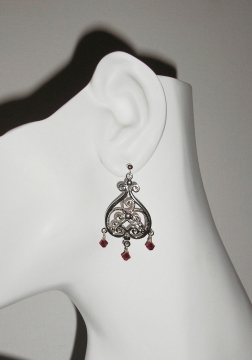 ---
Make the Matching Set
These earrings go great with the red filigree bracelet!