Turquoise Tube Earrings

About This Design
Time: Approximately 20-30 minutes
Level of Difficulty: Beginner - All Levels (some wire wrapping knowledge)
Cost: Varies, depending on materials selected. Approximately $10- 15 as shown.
These turquoise tube earrings are fun to wear, and best of all, they are not too hard to make. This design features pale green aventurine beads and blue green turquoise heishi beads, and for added interest I have attached two different types of rings to the bottom, with one tiny dancing turquoise seed bead.
Want to make these earrings, or a variation for yourself? Let's get started!
Step 1
Gather your supplies
4 tube beads of choice in any size and color. I used green aventurine, but any beads will do.
2 turquoise heishi beads.
2 seed beads. I used blue turquoise glass seed beads.
2 sterling silver headpins (about 24 - 26 gauge)
Length of sterling silver half hard wire (24 gauge).
4 soldered (closed) jump rings, I used two plain, and two twisted designs. (your choice of diameter and size of ring)
2 earwires, french hooks, leverbacks or posts (your choice) I used sterling silver french hook ear wires in my design
Need Supplies? Check my Jewelry Supply pages to find what you need!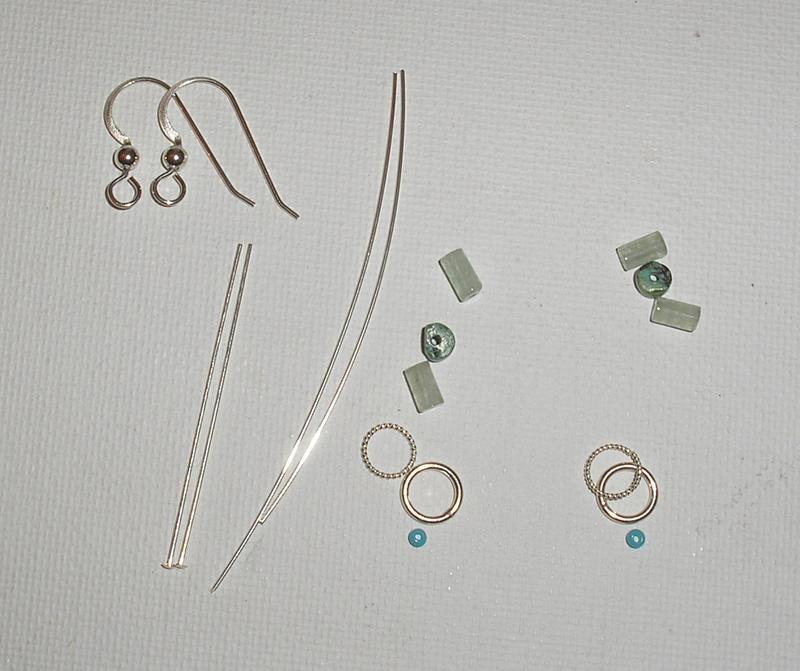 Step 2
Attach bottom seed bead, then attach jump rings to the bottom part of the earring
Slide each seed bead onto a headpin, and make a closed wire loop at the top, fastening the bead to the bottom of one of your jump rings. If you need help learning to make a loop, follow these instructions.
Now we need to wire wrap the jump rings with a closed loop at the top and form the bottom of our earring. Cut several inches of sterling silver wire. Make a round loop with your pliers, and attach this to both jump rings. Close the loop, leaving a stem of wire at the top.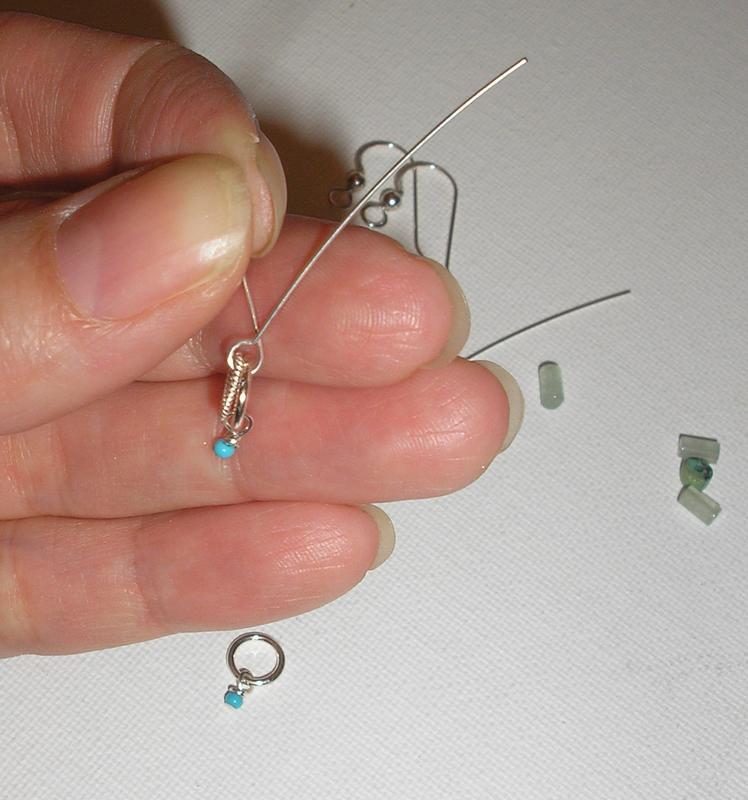 Step 3
Attach the tube and heishi beads to the top of the earring, and attach it to your earring component.
Slide one tube bead, one hieshi bead, and one tube bead onto the stem of wire at the top of your earring. Make a wire loop, and attach the earring to the bottom of your earring component, then close the loop. Repeat for the second earrring. If you need help learning to make a loop, follow these instructions.
That's it! Your fun new turquoise tube earrings earrings are ready to wear!