Gold Bead and Tourmaline Earrings

About This Design
Time: Approximately 15-20 minutes
Level of Difficulty: Beginner - All Levels
Cost: Varies, depending on materials selected. Approximately $15-25 as shown.
After several years of predominantly silver jewelry designs, gold is making a comeback. So, I made up several new designs featuring gold to share with you here on the website. If you prefer, this simple design would work equally well in silver. These beautiful earrings are made of sparkling golden tourmaline beads on the top and bottom of a gorgeous stamped design, gold-filled bead.
Want to make these earrings, or a variation for yourself? Let's get started!
Step 1
Gather your supplies
2 medium sized gold focal beads. I used gold-filled beads in a stamped oval shape and design. I got my beads at Dava Bead and Trade, Portland Oregon.
2 Headpins of a fine gauge that will fit through your tourmaline beads holes (24-26 gauge). Or make your own eye pins using plain wire and just fold the ends up on the bottom.
4 small faceted tourmaline beads (or beads of choice, crystals would work as well)
2 earwires, french hooks, leverbacks or posts (your choice) I used 14KT GF leverbacks in my design
Need Supplies? Check my Jewelry Supply pages to find what you need!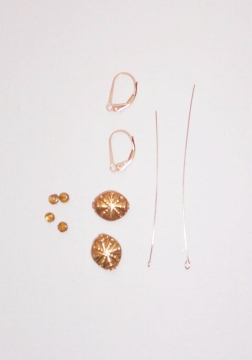 Step 2
String beads on headpins or wire and make loops
I used wire to make my head pins. Fold the end of the wire up with round nose pliers in a small tight loop to hold the beads on the wire. Or, simply use a fine gauge headpin. Slide a tourmaline bead, a gold bead, and another tourmaline bead onto the headpin or wire. Use your round nose pliers to create a basic loop. If you need help, follow these instructions. Attach the loop to the loop at the bottom of the earring component. That's it!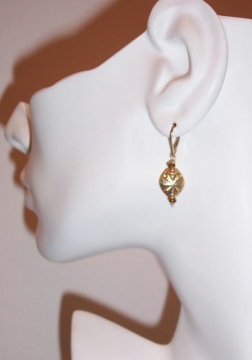 That's it, your pretty earrings are ready to wear!
---
Matching Jewelry Set
These earrings look great paired with other gold or tourmaline jewelry. Try these additional jewelry projects.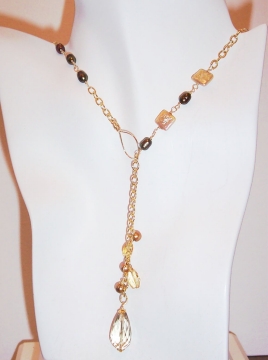 Tourmaline, Citrine and Crystal Bracelet