How to Use an Extender Chain for Bracelet or Necklace Designs
First of all, what is an extender chain?
An extender chain allows the option of fastening your bracelet or necklace closed at different places on the chain to control the length. I love to use extender chains in both bracelet and necklace designs because it gives the wearer some flexibility on length. This is especially nice if you want to wear a necklace at different places on the neckline depending on the top you are wearing. And, if you are making jewelry to sell, you won't have to re-size the piece to suit the wearer--this gives your jewelry more of a "one-size-fits-all" appeal. Plus, as an added bonus, I think extender chains are feminine and classy and with the addition of a final dangle bead or charm to the end of the extender chain, you end up with a much more professional and finished piece of jewelry than just using a plain old clasp. Ready to try using an extender chain? Here we go:
Step 1
Gather components
You will need some chain, and your flat nose pliers. You will need round nose pliers if you plan to attach the chain with a wire wrap technique. Purchase a pre-made set of extender chains from your favorite jewelry supplier or bead store, or simply use some bulk chain for the extender, and use a lobster clasp on the other end. Decide how much length you want for the extender chain, and cut this length of chain.
TIP - I wouldn't go any longer than one inch or so for a bracelet (maybe even half an inch) because if the bracelet extender is too long it may dangle too much and irritate the wearer. I usually go about two inches or so on a necklace. But, there are no hard and fast rules on length, so just do what looks and feels good to you.
I have a piece of bulk chain I will use as the extender, and a lobster claw clasp: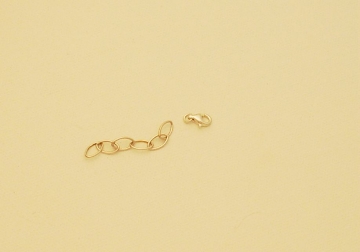 Step 2
Attach the extender chain
Now you are ready to attach the chain. You have a couple of options. You can use flexible jewelry wire with crimp beads to attach the extender chain. Or, if you know how to wire wrap, you can attach the extender chain to the necklace or bracelet chain with a single wire-wrapped bead component.
I am using flexible jewelry wire, which I have threaded through the extender chain and back through my crimp bead: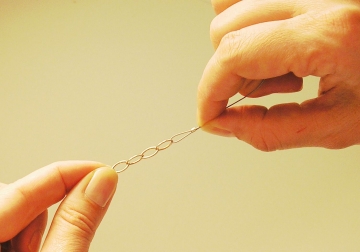 Step 3
Attach clasps if necessary
If you haven't purchased a pre-made extended chain set, you will now want to attach a lobster clasp or hook clasp to the other end. Use your flexible jewelry wire, or a jump ring or wire-wrapped bead component to attach the clasp to the other end of your design to complete your piece of jewelry.
TIP - I always attach a dangle bead or a small charm to the end of my extender chain. It gives a nice personal designer's touch!
At the other end, I have attached my flexible jewelry wire to a lobster claw clasp, and back through the crimp bead, preparing to crimp: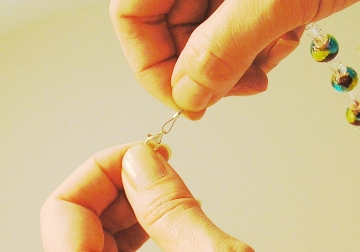 I am making a basic loop and attaching a decorative dangle crystal bead to the very end of my extender for decoration (a small charm would look nice, too):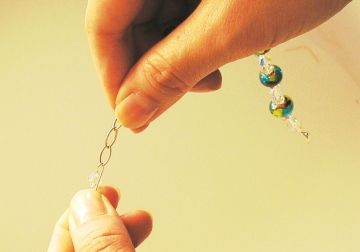 That's it! See the finished bracelet with extender chain and dangle bead!