Leather and Silver Bracelet with Turquoise Charms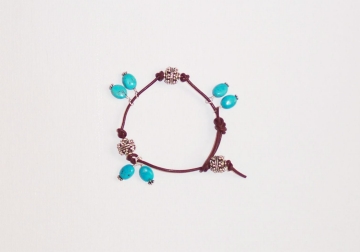 About This Design
Time: Approximately 15-20 minutes
Level of Difficulty: Beginner - All Levels
Cost: Varies, depending on materials selected. Approximately $10-15 as shown.
Perfect for summertime, or any time of the year. Inspired by a recent road trip through the Southwest, this bracelet features leather cording, knotted with sterling silver Bali beads, and dancing bright turquoise bead charms. Very simple and quick to make with a knotted loop closure.
Want to make this bracelet, or a variation for yourself? Let's get started!
Step 1
Gather your supplies
1 Strand of 1mm leather cord or waxed cord. Leather Cording on eBay
3 Bali sterling silver beads of choice with large enough bead hole to thread the leather cord through
6 turquoise beads of choice
6 Bali silver daisy spacer beads
6 sterling silver headpins
Need Supplies? Check my Jewelry Supply pages to find what you need!
Step 1
Knot the silver beads onto the cording and make loop closure
Tie a knot close to the end of the cord, and slide one silver bead onto the cord. Tie another knot on either side of each bead to hold in place on the cord. Pull the knots very tight after you are happy with the length and placement of beads. You may optionally use a dot of jewelers cement to make sure the knot doesn't come loose later.
Fold the cord back and create a loop on the other end of the bracelet. Make sure the bracelet is as long as it needs to be to fit your wrist, then make a simple overhand knot with the double looped cording. Adjust the knot to the correct position, then pull it tight.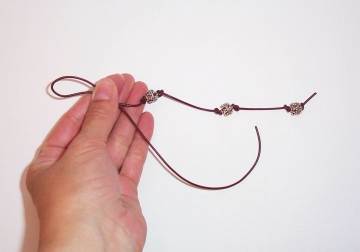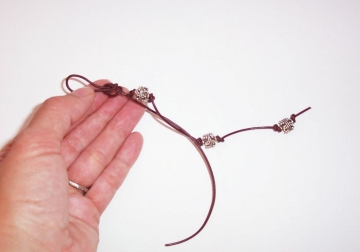 Step 2
Make and attach turquoise bead charms
Slide a Bali silver daisy spacer, then a turquoise bead onto a head pin. Attach them to the leather cording using round nose pliers to create a loop. Space them evenly, two per bracelet section between the knots. Feel free to add more charms if desired until you are happy with your bracelet design.
That's it! Your beautiful bracelet is ready to wear or give to someone as a special gift.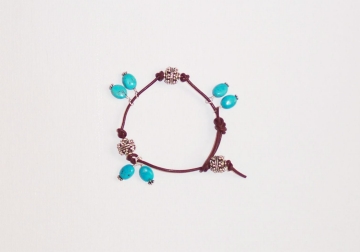 ---
Matching Jewelry Set
This bracelet looks great paired with other turquoise jewelry. Try these additional jewelry projects.