Moonstone Bracelet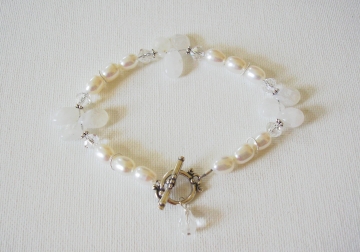 About This Design
Time: Approximately 30 minutes
Level of Difficulty: Beginner - All Levels
Cost: Varies, depending on materials selected. Approximately $15-20 as shown
I was inspired by that great strand of Moonstone beads I found, of course! I don't make much all-white jewelry but I can see the appeal--white goes well with everything you wear so this bracelet will look classic and great no matter what you put on that day. Plus, I love using natural semi-precious stone materials in my designs, as the stones don't just look good, they feel good to wear, too! These stones are smooth and cool to the touch. This bracelet design works well with any briolette teardrop shaped beads, and any pearls--do if you don't want to do white, pick another bead combo. I spiced the design up with some feminine details by adding twisted closed jump rings and a fancy sterling silver toggle clasp. This lustrous white design would also work well as wedding jewelry.
Want to make this bracelet, or a variation for yourself? Let's get started!
Step 1
Gather Supplies
9 Moonstone Briolette Beads

12 white freshwater potato pearls

6 Clear round or rondelle Swarovski crystals (6mm)

1 teardrop shaped, or briolette crystal bead

6 Bali silver daisy spacers

4 twisted closed jump rings (used as accents) (6.5mm or larger)

2 crimp beads

1 sterling silver toggle clasp

Length of flexible beading wire (enough for bracelet length plus a few inches to work with)
Need Supplies? Check my Jewelry Supply pages to find what you need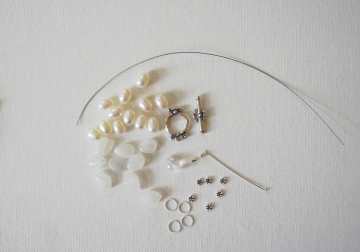 Step 2
String Beads
String all of your beads onto the flexible jewelry wire. Tie a knot on one end of the wire, or place some tape over the end, and string all of your beads onto the wire. Check the length and overall design and make adjustments by adding, removing, or re-positioning beads until you are happy with the look of the bracelet. If you like my design, string beads in this order (broken into sections):
Section 1: 2 pearls, 1 jump ring, 1 pearl

Section 2: 1 crystal, 1 Bali spacer, 3 Moonstones, 1 Bali spacer, 1 crystal

Section 3: 1 pearl, 1 jump ring, 2 pearls

Section 4: 1 crystal, 1 Bali spacer, 3 Moonstones, 1 Bali spacer, 1 crystal
Continue stringing, repeat sections 1-3. If the bracelet is too short, add pearls to either end. If it is too long, remove pearls from either end. You could optionally use a lobster claw clasp and extender chain, if you want the length to be adjustable.
Step 3
Crimp ends and attach the clasp
Slide a crimp bead onto the wire, feed the wire through the clasp loop, then back through the crimp bead. Pull the wire snug, and crimp the bead closed. Follow the How to Use Crimp Beads instructions if you are not familiar with this technique. Repeat on other side, making sure you pull the wire tight to beads before crimping. TIP - Because this is a toggle clasp, you will want to leave a little "play" in the wire so the clasp is easy to put on, so leave a little room where the loop of wire attaches to the clasp. Cut off remaining tails of wire with flush cutters.
TIP - As an option, try the new crimp bead covers to hide crimps for an even more finished look.
Step 4
Attach a crystal "drop" bead as an accent detail
Slide the crystal drop bead onto a head pin and make a round loop at the top with your round nose pliers. Attach the loop to the round part of the toggle clasp, and close the loop. This adds a nice final touch.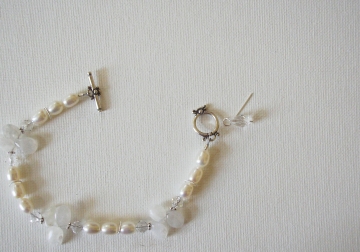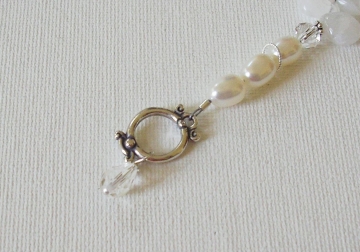 That's it, your bracelet is ready to wear!

---