Pet Name Bracelet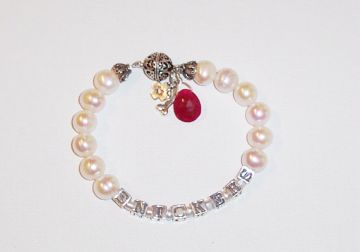 About This Design
This pet name bracelet design is dedicated to the memory of "Snickers", my mom's beloved Maltese dog who passed away on 3/28/06. Snickers was pure white, so I used snowy white pearls in my bracelet design.
Time: Approximately 30 minutes - 1 hour
Level of Difficulty: Beginner - All Levels
Cost: Varies, depending on materials selected. Approximately $35-40 as shown.
This pet name bracelet is a wonderful gift for any animal lover in your life. Use alphabet beads to spell the pet's name, and select a pet charm or two (cat, dog, horse--whatever!). Use any beads and clasp that you like. In my design I used pearls and a decorative magnetic clasp, with a doggie bone and cross charms, and red gemstone briolette bead as an accent.
Want to make this bracelet, or a variation for yourself? Let's get started!
Step 1
Gather your supplies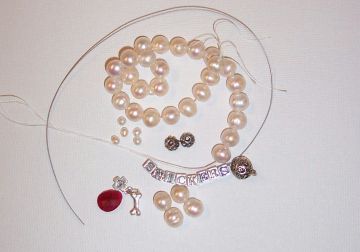 1 length flexible jewelry wire such as Soft Flex or Beadalon (desired bracelet length, plus a few inches to work with.)
Two crimp beads
One clasp of choice. Here I used a decorative magnetic clasp.
Beads of choice. Here I used large (12mm) snowy white pearls.
Two Bali bead caps of choice. Here I used sterling silver baskets.
Alphabet block beads. Here I used sterling silver letter beads.
Enough small round beads to separate the alphabet block beads. Here I used five smaller white pearls.
Charm(s) of choice. Here I used a doggie bone charm, a cross with heart charm, and to represent a heart full of love, I used a red gemstone flat pear-shaped briolette drop bead as an accent. I got my pet-themed charms at Auntie's Beads.
If you plan to attach a briolette bead, you will need a piece of wire. Here I used small gauge sterling silver wire.
Need Supplies? Check my Jewelry Supply pages to find what you need!
Step 2
Slide beads onto jewelry wire
Knot one end of your jewelry wire, or place a piece of tape on the end so the beads don't fall off. String your beads onto the wire. Use a bead design board or a ruler to make sure the bracelet is the right length (factor in the clasp!). You may need to add or remove beads depending on how many letters are in your name to get the proper length. Start with a bead cap (facing towards the beads), string your beads, then start the Alphabet beads. Place one smaller round bead in-between each of the alphabet block beads.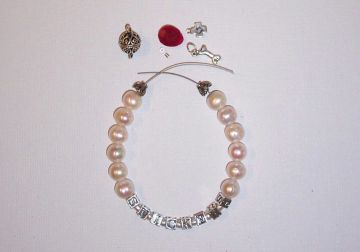 Step 3
Crimp beads to attach clasp, then attach charms
Now you are ready to attach the clasp and charms. Slide one end of the wire through a crimp bead, around the loop on the clasp, then back through the crimp bead. Use crimping pliers to close the crimp, and then repeat on the other side. If you need instructions on how to crimp beads, click here.
Using my silver wire, I wire wrap a loop on the top of the briolette bead (click here for instructions). I use a jump ring to attach both of my doggie charms and the briolette bead to the loop on one side of my clasp. That's it!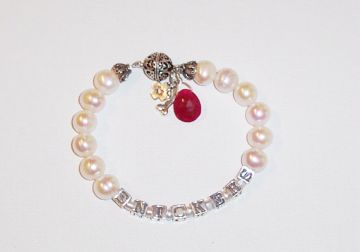 ---