Welcome, fellow jewelry making friends!
There are lots of good things in the July Making-Jewelry.com newsletter:
This is the third issue of the Making-Jewelry e'Zine. The website is three months old now, and we already have over 225 newsletter subscribers--so a big "Thanks" to all of you for subscribing and showing an interest in the new website! I am trying to make the website as helpful as possible, and in the newsletter (for subscribers only) I will offer special jewelry supply discount coupons, extra free projects, and more little goodies just for you. Thanks to the Internet, I have been making new jewelry friends from all over the world, and it's very exciting to talk with people from so many different places. I've had emails from folks in the UK, Australia, South Africa, India, the US...and many other places on the globe, it's nice to know jewelry making has such a rich history and is a tradition that transcends boundaries. And, you can chat directly with each other too--post your questions and ideas right on the making-jewelry.com Chat Room and see if you can't make some new jewelry making friends from around the world.
Well, it's summertime in Portland, Oregon, and in the Pacific Northwest we get three nice months of sunshine, so I have been spending a lot of time outside enjoying the fine weather and summer activities. (This also explains why the July newsletter is a little bit late in coming out this month :-)
Here I am in the Portland Rose Garden, wearing two new jewelry designs just added to the website, a vintage-look filigree pendant and some sparkling green Swarovski crystal earrings. It's easy to see where I find my inspiration for new summer jewelry--outdoors! I do love nature, so I will be focusing on some nature inspired designs in a few new projects.

Listed below are the new jewelry designs just added to the site. This month I am focusing on quick and easy summer designs so you can spend less time indoors and more time out wearing that great summer jewelry.
New Necklace Designs:
New Earring Designs:
New Bracelet Designs:
Please keep checking back, I am uploading designs as quickly as I can, because I know you are always looking for some fresh inspiration! If you would like to share your own jewelry designs with the website visitors, don't forget to check the Designer's Gallery and submit your own designs.
Need more summertime jewelry inspiration? If you're looking for more jewelry ideas and running a little low on inspiration (hey, it happens to all of us!), I always enjoy browsing a bead or jewelry magazine to see if I can't get a spark for new ideas. One of my favorites is Bead Style for some quick and easy designs.
---
More Techniques are Coming...Precious Metal Clay
I promised in last month's newsletter that I would be covering PMC techniques this month. I am sure you are interested in learning how to make totally one-of-a-kind jewelry in precious metal clay. I finally got my delivery of PMC supplies, so very soon I will get to work and get those "How To" instructions and new PMC design projects up on the site. Also, I am thinking of taking another metal smithing course or a glass bead making class at my local college this fall, so you can look forward to some advanced jewelry making techniques and projects coming up later this year.
Are there more "How To" instructions you are wanting to see covered?
Do you find yourself asking "How did they make that?, or "I wish I knew how to do..." Just fill out the form to Contact Me and let me know, and I will get it on the site!
This Month's Questions from You:
Q: I'm confused! How do I know what type and size of wire to buy when making wire wrapped jewelry?
A: I know--it is confusing--20 gauge, 22 gauge, half hard, dead soft...what does it all mean? I know I was totally confused when I first started making jewelry. But, the good news is that a vast majority of your simple wire wrapped beaded jewelry projects can be made with just a few types of wire. Here is the rule of thumb--the smaller the gauge number, the LARGER (not smaller) the actual diameter of wire. For example, a 16 gauge wire is actually larger than a 20 gauge wire. I would suggest starting with a 20 -24 gauge half-hard wire for most of the projects on my site. If you are brand new to wire wrapping and need to practice and get the feel of it, you can start with soft wire (also called dead soft) but it won't be as strong and hold it's shape quite as well so it isn't as good a choice for components (like beaded chain bracelet or necklace) that might take some wear and tear. You can also practice with inexpensive softer copper wire, then move up to sterling and gold-filled once you have the hang of it. For small-hole drilled beads like pearls and some semi precious stones, you will find you need a smaller wire diameter or gauge, so I typically keep some 26 gauge wire around for those finer pieces. For the whole run down of wire types, sizes, and charts, check out Preston Ruether's wire-sculpture website for more information at http://wire-sculpture.com/wire.html.
Q: How do I know what size of stretch elastic cord to use when making stretch bracelets?
A: The larger the diameter of elastic thread, the stronger the bracelet will be. However, many times a larger diameter elastic thread will not fit easily through your bead holes and there is nothing more frustrating than trying to shove a thread through a hole that is too small, it can take forever to get your beads threaded. So, I usually pick a smaller stretch elastic and use two strands at once through each bead hole (but still smaller in overall diameter than a larger diameter stretch elastic). Personally, I have tried Stretch Magic .5mm, and it seems to work fine for me.
---
July's modern birthstone is Ruby. The name "ruby" is derived from the Sanskrit, kuruvinda ("Ruby"). Ruby Gemstone Lore: "Rubies are a stone of nobility. The Ruby brings love, confidence, loyalty, and courage. It instills stamina, vitality and strength." (information from About.com) The most popular rubies are red in color, with a hardness of 9 (second only to diamond and emerald), and with similar properties to sapphires. If you'd like to buy some genuine ruby beads, check eBeadshop.com and artgemsinc.com for a nice selection. If the cost of real rubies is prohibitive, you can use red bead alternatives such as garnets, or Siam Swarovski crystals. I created a super easy red crystal bead filigree set for your July birthstone projects. Keeping reading below to get a coupon for $2 off your crystal beads.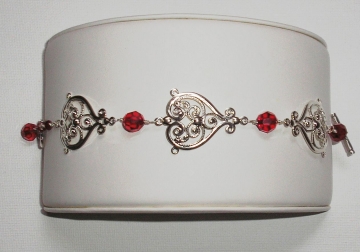 ---
Just for my making-jewelry.com fans, I have some SPECIAL JULY SAVINGS, brought to you courtesy of Laura at BestBuyBeads.com ($2 off coupon), and John at FoxyFindings.com (15% off purchase). Thanks to Laura and John for providing discount coupons to making-jewelry.com newsletter subscribers this month! I know we all appreciate saving a little money on our addictive beading habit, and these two on-line shops offer great products and service for all your jewelry creations.
BestBuyBeads.com offers a great selection of Swarovksi crystal beads in many colors, at great prices. And, you get another $2 off! To use the BestBuyBeads.com Coupon offer, just enter the code MJ2 at checkout.
FoxyFindings sells on eBay auctions, as well as directly from their website. Foxy Findings is a great source of vintage-look findings and castings made from brass and other metals. FoxyFindings is also a great place for jewelry kits if you are having a little trouble coming up with a fresh idea. To use the FoxyFindings.com Discount offer, enter the code FOXY at checkout and receive 15% off your total order.
And, here is a rundown of some of the usual favorite suppliers and their specials running this month.
Auntie's Beads - Auntie's is having a "Christmas in July" sale, so check out their specials and save 25%.
ArtBeads - Artbeads is offering FREE SHIPPING with no minimum order. Also, check their online coupon each week for additional savings. Check for Specials on Artbeads.com
eBay- A great finding can make a stunning piece of jewelry with very little effort. This month I am featuring two designs made with Hill Tribe Silver findings. Hill Tribe silver is made by the Karen Hill Tribe in Thailand, and features many great natured inspired and rustic pieces like the rose pendant and leaf charm in my featured designs. Check out all the components for sale: Hill Tribe Silver on eBay
---
Here is the newsletter-subscribers-only project design idea of the month, sent to you because you are an exclusive member of my e'zine newsletter.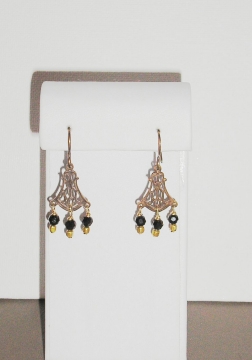 About This Design
I was in a vintage fashion mood, so I wanted to make some earrings using antique-look brass findings. This pair goes well with the vintage look pendant featured on the site, or when worn on their own. Stamped brass findings lend a real antique appearance and look great! Picture wearing these with a bohemian skirt or pretty feminine sundress! Because it's summertime, I also wanted to feature a very fast and simple 3-Step design so you can whip up these earrings in less than half an hour and be on your way. You can certainly modify this design by adding dangling chains and lots more beads, so feel free to improvise to get the look you want!
Time: Approximately 30 minutes
Level of Difficulty: Beginner - All Levels (some wire wrapping)
Cost:
Varies, depending on materials selected. Approximately $10 as shown
Step 1
Gather Supplies
2 brass or vintage-look earring dangle components with holes for attaching beads (Check out FoxyFindings.com, or your local bead store)

6 small crystal beads (check out BestBuyBeads.com), or enough beads to work with the earring component you selected. I used burgundy colored beads in this design.

6 small brass or other accent beads (your choice)

6 headpins (brass or gold color)

2 brass or metal ear wires (hooks, lever backs, posts--your choice)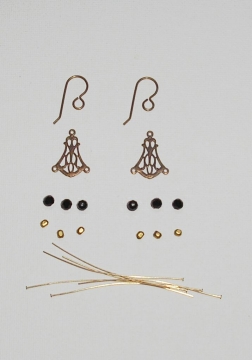 Step 2
String Beads on Headpins
String all of your beads onto the headpins, and make a round loop at the top. Attach the loop to the holes in the earring component, and make a simple closed wire loop.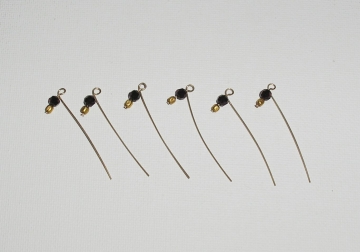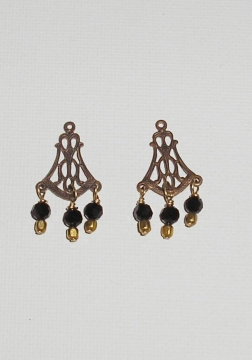 Step 3
Attach to earring
Use your pliers to open the loop on the earring wire. (Follow these instructions on how to properly open and close a wire loop). Slide your finished earring onto the loop, and carefully close the loop using your pliers. That's it, your new "vintage" earrings are ready to wear!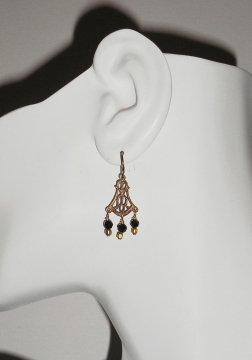 ---
This is actually the best part of the newsletter for me, and I have saved the best for last.
Would you like to create your own home based jewelry business?
Well, I would like to announce the publication of my first e-book, "How to Run a Home Based Jewelry Party Business for Fun and Profit - A Step-by-Step Action Plan for Building your Dream Business." If you have ever wondered whether you can make a great part-time or full-time income with your own fun and creative business, this book is for you. This book features a wealth of information on how you can start your own successful business right now. Read more and get your copy, here.
Inside this great book you'll get over 100 pages of valuable information--absolutely everything any jewelry crafter would need to know to turn their fun hobby into a profitable business.
The book is divided into 5 comprehensive sections:
Section 1 - Getting Started

Step 1 - Your Reasons for Starting a Business

Step 2 - Establish Goals and Objectives

Step 3 - Is a Jewelry Business the Right Fit for Me?

Step 4 - Setting and Managing Expectations on your Time

Step 5 - Identify Your Customers

Step 6 - Identify your Products

Step 7 - Competition, Supply & Demand

Step 8 - Pricing Strategies
Section 2 - Business Operations and Legal Issues
Step 9 - Maintaining Records

Step 10 - Identifying Startup Costs

Step 11 - Planning to Pay Yourself

Step 12 - Projecting your Income

Step 13 - Business Legal Structure

Step 14 - Business Name

Step 15 - Handling Taxes

Step 16 - Business Licenses, Certificates, and Restrictions

Step 17 - Business and Personal Insurance

Step 18 - Credit Card Processing

Step 19 - Building an On-line Presence

Step 20 - Protecting your Business

Step 21 - Writing your Business Plan
Section 3 - Sales and Marketing
Step 22 - Building Client Relationships

Step 23 - Create Marketing Materials
Section 4 - Having a Successful Jewelry Party
Step 24 - Recruiting Party Hosts with Incentives

Step 25 - Design Great Party Invitations

Step 26 - Party Preparation

Step 27 - Party Refreshments

Step 28 - What to Expect During the Party

Step 29 - New Jewelry Party Formats

Step 30 - Post Party Tasks

Step 31 - Growing your Business
Section 5 - Additional Helpful Information
In addition, you'll learn these valuable secrets:
How to stop procrastinating, get focused, and start your own business today

An easy step-by-step process for creating a business plan that works for you

The secret of getting new customers for your business

How to build an incentive plan that makes party bookings easy, with no hard selling!
Fantastic new jewelry party format ideas

The critical steps to having a successful party
Additional ways to grow your business

PLUS - All of the business forms you need to complete your plan
As you can see, this really is the ultimate tutorial for learning how to start and operate your own home jewelry party business.
Excuse me for bragging a little bit, but I am proud of all my hard work! :-) But, don't just take it from me. Read these testimonials about my book from jewelry business owners Rena Klingenberg and Louise Longworth.
"Lorri Ely's 'How to Run a Home Based Jewelry Party Business for Fun and Profit' is one of the most comprehensive resources of its kind that I've come across. It's written in a friendly, easy to read style but is full of very professional and well researched advice.
Although I've been making a living selling my handmade jewelry at parties, and have even published a website with information on this method of selling, I still learned a huge amount. I can't wait to try out some of the new ideas in Lorri's e-book, as I know my business will benefit enormously. And I'll be recommending it to all my website visitors!"
-Louise Longworth
www.craft-selling-parties.com
"Home parties have become one of the fastest growing and most lucrative ways to sell your handcrafted jewelry.
Lorri Ely's e-book, "How to Run a Home Based Jewelry Party Business for Fun and Profit" is an excellent roadmap to starting and growing this type of jewelry business.
Beyond her tips for selling your jewelry at parties, Lorri's book is a do-able, step-by-step business action plan. At every step she details exactly what you need to do and why - and she provides loads of useful resources and links you can refer to all along the way. She never leaves you hanging; you always know what to do next, and where to find everything you need.
This guide smoothes your path over the nitty-gritty business matters like planning, market research, recordkeeping, finances, paperwork, etc. that often scare creative people away from building the successful handcraft business they dream of.
Lorri's jewelry party business forms, templates, and invitation examples alone are worth the price of the e-book!
The biggest hurdle in achieving something new is taking that first step toward getting started - and Lorri breaks everything down into small, achievable steps in this outstanding guide.
Dive into this e-book and get started on the exciting path to your profitable home jewelry party business!"
-Rena Klingenberg
Publisher of
http://www.home-jewelry-business-success-tips.com
So, what does the book cost? I am offering my book for a very LIMITED TIME at a very low introductory price of less than $20, so my newsletter subscribers can get a copy before the price goes back up to regular price. Plus, I fully guarantee your satisfaction. If you are not completely happy with the book, you will get a full refund.
I hope you will buy your copy today, and get started on the road to creating your very own business! I would love to share my successes and help inspire you to create your own fulfilling jewelry career.
---
Thanks for reading the newsletter this month. Remember to check www.Making-Jewelry.com often for more "How To's" and project ideas. We've only just begun and there are many exciting things coming on the website. "From inspiration to your creation…" Take care, happy beading, and have a great month!

Know somebody who'd like to read this?



I really hope that you've enjoyed reading this newsletter. If you think your friends might be interested in taking a look, please feel free to forward it to them.

Haven't subscribed yet?

If you're reading this on the recommendation of a friend and would like to receive all the future editions, you can subscribe for free by clicking this link.

Contact us:

If you have any comments, opinions, or content ideas I'd love to hear from you. Just click on the this link to access my contact form.

Best Regards,

-Lorri Ely, Jewelry Designer and Owner of www.Making-Jewelry.com
---