Welcome, fellow jewelry making friends!

This is the second issue of the Making-Jewelry e'Zine. The website is about two months old (young) now, so there is still a lot of work to be done. I am spending my time making jewelry, taking photos, then writing up the projects and "How To" steps so I can get them up on the website and share them with you. There are plenty of new designs still on the way. If you haven't visited the site recently, here are just a few of the newest designs you might enjoy:
New Necklace Designs:
New Earring Designs:
Chalcedony Briolette Cluster Earrings
New Bracelet Designs:
Breast Cancer Awareness Bracelet
---
New Poll
I've been running a new poll on the website to see which types of designs you would like to see more of--bracelets, earrings or necklaces. If you haven't voted yet, go to the home page and the poll is on the right side of the screen. So far the poll results are pretty evenly matched--you want to make more of all types of jewelry! That's good, I will just keep adding more designs. If there is a particular design idea or concept you would like to see covered, let me know.
---
June Birthstone Jewelry Ideas
June's modern birthstone is Moonstone and Pearl. Moonstone is typically milky white and "chatoyant" or meaning it has a luminous reflective quality, often with a blue lustrous sheen. There are some varieties of moonstone that have a peach, gray, or pink color, as well. Pearls are now readily available (dyed or treated) in every color of the rainbow, with natural colors ranging from black to white, with creamy pink and peach variations.

Moonstone is said to be a stone of rejuvenation. If you're interested in the metaphysical properties of gemstones, here is what is said about Moonstone: "Moonstone promotes the use of intuition and feelings rather than intellectual reasoning. It can be a useful crystal to have around if you find yourself getting "stuck in your head" – worrying or thinking too much. In this way it also helps to trust your intuition when it comes to decision making and can be seen as a guiding stone. In India today, and in other traditions, moonstone is still regarded as a sacred stone. It is a rejuvenating and vital crystal that brings calmness and awareness of things greater than our human body and mind. It is also sometimes known as the wishing stone." (Excerpt from holisticshop.co.uk) Sounds good to me! I want more Moonstones! :-)

Moonstone is somewhat rare, but not terribly expensive. I went in search of some moonstone beads and I was unable to locate much in my local bead stores, but I did find several options of Moonstone Beads for sale on eBay. (I do love shopping on eBay!). I did purchase a couple of strands of nice smooth Rainbow Moonstone teardrop briolette beads (unfaceted) so I could feature them in the June birthstone projects. And, just for my newsletter subscribers, I am willing to part with some of my stash by selling some of my beads directly to you through my on-line jewelry store. I have a very limited supply of these beads, so if you want some to make the June Moonstone Projects, grab them early. Of course, you can also find moonstone beads on eBay, in case I have sold out.

Moonstone Design Tip - Because most moonstone is white, it works well with nearly any color of bead. Moonstone looks particularly good with blue beads, as it picks up the reflection of color. Try pairing moonstone with blue lace agate (pale milky blue), or some blue chalcedony. Of course, moonstone also looks great with pearls.

Other June Birthstones - Here is a birthstone chart of modern and traditional birthstones. Another popular June birthstone is Alexandrite (moonstone is the modern birthstone), a color changing gemstone that is rare and very expensive. While I love Alexandrite, I haven't used any Alexandrite yet in my jewelry designs, because it is usually sold in expensive faceted cut stones for rings and other high-end fine jewelry.
---
Jewelry Supply Specials
So, where do you buy your beading and jewelry making supplies this month? Here are a couple of deals I have scouted out for you.
Auntie's Beads now has an "Under $5 category", so check for some bargains. Here is their coupon for the month: Coupon Code: JUNESHIP - free 1st class shipping online only, no minimum purchase required, coupon valid through June 5, 2006. Also, they are having a June trunk show of special items. Coupon Code: JUNETRUNK15 - 15% your trunk show purchase!

ArtBeads posts a special "coupon of the week" on their website every Friday. Details: This week's Coupon Code to type at checkout is SC250 to save 5% off $250 or more. Gold has gotten really expensive, and one of their specials this week is gold-filled leverback earring components for $1.25 each. Trust me, I have looked around and this is a great price. Only until June 2, so hurry.
BeadShop.com is having a 20% off clasp sale, but only until June 6th. They have some really nice clasp designs, as well as some unique items, so check them out.
BestBuyBeads.com is a great place to find every color of Swarovski crystal bead. They offer quantity discounts if you buy more beads, and free Priority Mail shipping for orders over $200. I have ordered from them several times, and I always get my beads in a hurry, with great service.
eBay - Ok, so by now you know that I love eBay and I have been buying a lot of my jewelry supply from eBay sellers for years. The reason? It's simple--I save money, and eBay has a huge selection. I just checked and there are currently over 90,000 bead listings. I can almost always find exactly what I want--even unique beads. When you are looking for something unique at a great price, check for beads for sale on eBay. Just remember to pay attention to shipping charges and check the seller's feedback rating (an over 99.6% positive rating is my guide) to make sure they are reputable, before placing a bid.
I have decided to try selling some beads, charms and jewelry kits directly to my website visitors and newsletter subscribers for convenience to you in making some of the featured designs. I will only sell items that I can find at great prices (to pass along, of course), or if they are really unique beads and I want to share something special (It wasn't my intention with this website to become a bead store, but you never know... :-) Anyway, I have very limited quantities of items, but if there is an interest I will start stocking more and will let you know when there are special items or bargains, here in the newsletter.
Jewelry Tool Set - This month, I have purchased some jewelry making tools in bulk so I can share the savings with those who are new to jewelry design--or if you have been designing jewelry for a while and just want some good tools at last. If you need some jewelry pliers, I am selling a Deluxe Jewelry Maker's Toolkit for $38, which includes four pairs of "must have" pliers in a nice purple leatherette case. These are pro quality, Bead Smith brand tools, and this is way cheaper than you'll find these tools in the bead store, so if you want some, snap up a set before they are gone. For my International (outside of United States) website visitors, please Contact Me and let's determine shipping costs if you want to purchase this set. Keep checking back as more jewelry kits and cool beads will be coming in July after I have an opportunity to visit an upcoming Bead Fair and stock up on more unique items you'll want to use in making jewelry.
---
New Product Reviews
Metal Mesh Cord
Have you seen the new metal mesh that you can string beads with? This is delicate wire mesh in a tube cord. You can either open it up and put beads inside, stretch it apart with your fingers, or make wire forms to wrap it around--use your imagination and have fun. I couldn't wait to get my hands on some of this so I could try a project and share it with you. I made a gorgeous and very unique necklace from silver mesh, and I encased some charcoal gray pearls along with some crystals inside of it. This is really unique and fun to work with, I suggest you try some! Check out this project: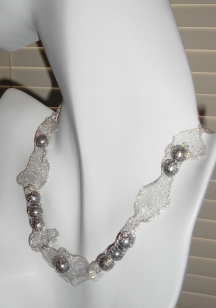 Metal Mesh - ©©©Highly Recommended! If your local bead store doesn't have it yet, you can buy some online. I found it at BeadShop.com.
Got a new product you would like me to review? Just Contact Me and I will post my product review in an upcoming newsletter.
---
Jewelry Party Articles
One of my favorite jewelry sites on the web is Home Jewelry Business Success Tips. Rena Klingenberg, Jewelry Artist and Website Owner, has put together a wealth of great information if you are wanting to explore selling your own jewelry, or if you have an established jewelry business. If you haven't seen her website, go check it out. I recently wrote an article for Rena's website called "A While you Wait Jewelry Party". Read my article and learn how you can host jewelry parties and make jewelry on the spot while guest wait--it's a lot of fun and it can be quite profitable, too. Another jewelry website you might want to explore is Craft Selling Parties, by my friend Louise. Louise covers tips and ideas for all sorts of craft parties--not just jewelry. As we jewelry designers tend to be creative people who enjoy other crafts too, check her site for even more ideas to have fun and make money.
---
Your June Newsletter Project Idea
Here is the newsletter-subscribers-only project design idea of the month, sent to you because you are an exclusive member of my e'zine newsletter.
"Marvelous Moonstone" Briolette Bracelet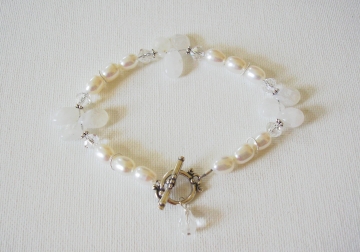 About This Design
I was inspired by that great strand of Moonstone beads I found, of course! I don't make much all-white jewelry but I can see the appeal--white goes well with everything you wear so this bracelet will look classic and great no matter what you put on that day. Plus, I love using natural semi-precious stone materials in my designs, as the stones don't just look good, they feel good to wear, too! These stones are smooth and cool to the touch. This bracelet design works well with any briolette teardrop shaped beads, and any pearls--so if you don't want to do white beads, just pick another bead combo. I spiced the design up with some feminine details by adding twisted closed jump rings and a fancy sterling silver toggle clasp. This lustrous white design would also work well as wedding jewelry.
Time: Approximately 30 minutes
Level of Difficulty: Beginner - All Levels
Cost: Varies, depending on materials selected. Approximately $15-20 as shown
Step 1
Gather Supplies
9 Moonstone Briolette Beads

12 white freshwater potato pearls

6 Clear round or rondelle Swarovski crystals (6mm)

1 teardrop shaped, or briolette crystal bead

6 Bali silver daisy spacers

4 twisted closed jump rings (used as accents) (6.5mm or larger)

2 crimp beads

1 sterling silver toggle clasp

Length of flexible beading wire (enough for bracelet length plus a few inches to work with)
To see whether my website visitors are interested in buying complete kits with all the supplies to make the featured design, I will be selling limited edition jewelry kits of favorite projects. For this bracelet I will sell only three kits. So, if you would like, you can purchase this bracelet kit, now. If I have already sold out, Contact Me and I will see if I can help you find these beads an components. If I find my website visitors are interested in jewelry making kits, I will start stocking larger quantities for future designs.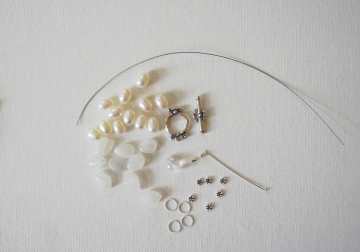 Step 2
String Beads
String all of your beads onto the flexible jewelry wire. Tie a knot on one end of the wire, or place some tape over the end, and string all of your beads onto the wire. Check the length and overall design and make adjustments by adding, removing, or re-positioning beads until you are happy with the look of the bracelet. If you like my design, string beads in this order (broken into sections):
Section 1: 2 pearls, 1 jump ring, 1 pearl

Section 2: 1 crystal, 1 Bali spacer, 3 Moonstones, 1 Bali spacer, 1 crystal

Section 3: 1 pearl, 1 jump ring, 2 pearls

Section 4: 1 crystal, 1 Bali spacer, 3 Moonstones, 1 Bali spacer, 1 crystal
Continue stringing, repeat sections 1-3. If the bracelet is too short, add pearls to either end. If it is too long, remove pearls from either end. You could optionally use a lobster claw clasp and extender chain, if you want the length to be adjustable.
Step 3
Crimp ends and attach the clasp
Slide a crimp bead onto the wire, feed the wire through the clasp loop, then back through the crimp bead. Pull the wire snug, and crimp the bead closed. Follow the How to Use Crimp Beads instructions if you are not familiar with this technique. Repeat on other side, making sure you pull the wire tight to beads before crimping. TIP - Because this is a toggle clasp, you will want to leave a little "play" in the wire so the clasp is easy to put on, so leave a little room where the loop of wire attaches to the clasp. Cut off remaining tails of wire with flush cutters.
TIP - As an option, try the new crimp bead covers to hide crimps for an even more finished look.
Step 4
Attach a crystal "drop" bead as an accent detail
Slide the crystal drop bead onto a head pin and make a round loop at the top with your round nose pliers. Attach the loop to the round part of the toggle clasp, and close the loop. This adds a nice final touch. That's it, your bracelet is ready to wear!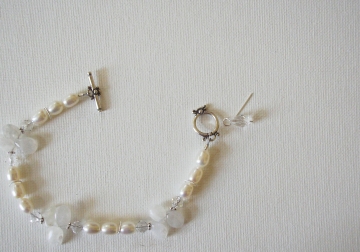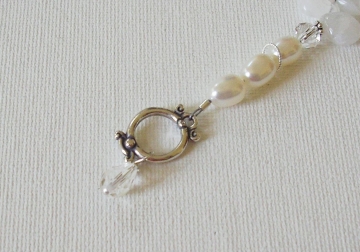 ---
More How To Instructions - Coming Soon...Metal Clay
Next month I plan to add new "How To" documents on techniques you might want to try adding to your jewelry making repertoire. I will be exploring how to make jewelry with PMC, also known as precious metal clay. I have made this jewelry in past and it is so exciting to produce a totally one-of-a-kind piece of solid silver jewelry. Metal clay also comes in gold, but given the price of gold I will probably stick with silver for now. So check back next month for tips and techniques so you can start exploring metal clay, too.
Are there more "How To" instructions you are wanting to see covered? Do you find yourself asking "How did they make that?, or "I wish I knew how to do..." Just fill out the form to Contact Me and let me know, and I will get it on the site!
---
Swarovski Jewelry Design Contest
Have you hear about the Swarovski Design Competition? Submit your designs using Swarovski crystals and you could win! Read more about the contest on the Swarovski Website, and good luck! I would love it if one of my making-jewelry.com friends won the contest--I would submit a design myself but I am too busy making this website.
---
Designer's Gallery
Speaking of creating new designs, have you seen the new Jewelry Designer's Gallery? It's up on the site now, and you jewelry designers can share your ideas with the world, as well as get some free press and a link to your website just by submitting your jewelry design to the site. Come on, show us your stuff! If you are one of the brave souls who was first to submit their design--THANK YOU, I love your innovative ideas and I am sure everyone will enjoy the inspiration that you shared.
---
Thanks for reading the newsletter this month. Remember to check www.Making-Jewelry.com often for more "How To's" and project ideas. We've only just begun and there are many exciting things coming on the website. "From inspiration to your creation…" Take care, happy beading, and have a great month!
Know somebody who'd like to read this?

I really hope that you've enjoyed reading this newsletter. If you think your friends might be interested in taking a look, please feel free to forward it to them.

Haven't subscribed yet?

If you're reading this on the recommendation of a friend and would like to receive all the future editions, you can subscribe for free by clicking this link.

Contact us:

If you have any comments, opinions, or content ideas I'd love to hear from you. Just click on the this link to access my contact form.
Best Regards,
-Lorri Ely, Jewelry Designer and Owner of www.Making-Jewelry.com
---
---